Things You'll Need
1/4 cup soy sauce

1/4 cup olive oil

2 tbsp. water

2 chopped garlic cloves

1 tsp. ground pepper

Large bowl

Small bowl

1 1/4 tbsp. paprika

1 tbsp. kosher salt

1 tsp. garlic powder

1/2 tsp. black pepper

1/2 tsp. onion powder

1/2 tsp. cayenne pepper

1/2 tsp. dried oregano

1/2 tsp. dried thyme

2 tbsp. olive oil

Baking sheet

Aluminum foil

3 lbs. tri-tip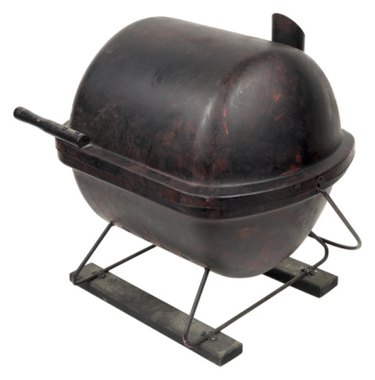 The tri-tip is the triangular cut of beef that is found on the tip of the sirloin. While tri-tip can become very tender and flavorful, it can also be extremely tough if it is not cooked properly. This cut is best served medium rare, so you do not want to overcook it. Grill your tri-tip outdoors or roast it in the oven for a tender and moist dinner that you can enjoy with friends and family.
Grilled
Step 1
Place your soy sauce, olive oil, garlic and pepper inside a large bowl.
Step 2
Cut your tri-tip into 1/2-inch slices and place the slices inside the marinade.
Step 3
Cover the bowl and place it inside the refrigerator for about four hours.
Step 4
Preheat your grill for high heat. Place the tri-tip onto the grill and grill it on each side for three to five minutes.
Roasted
Step 1
Mix together all of your dried spices, salt and pepper in a small bowl.
Step 2
Stir the olive oil into the mixture and allow it all to sit for about 15 minutes.
Step 3
Preheat your oven to 350 degrees Fahrenheit.
Step 4
Line a baking sheet with aluminum foil. Place the roast on the baking sheet and cover all sides of it with the herb rub.
Step 5
Roast the tri-tip in the oven for an hour, or until its internal temperature reaches a minimum of 145 degrees Fahrenheit. Let the meat sit for about 15 minutes before you slice it so that the juices can redistribute.