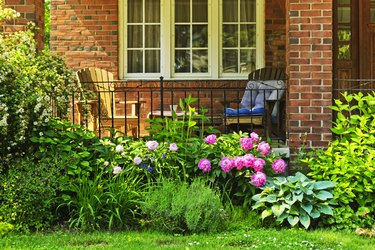 Red brick carries a sense of permanence, tradition and a connection to the earth. Made from natural clay and shale, red brick features tones that vary widely, depending upon the location of the clay used. Red bricks can be tinged with a number of hues. So it is wise to audition the colors of possible landscaping plants against your home's particular color of brick to see if flower and leaf colors complement or clash with it. For foundation or background plantings, medium- and dark-green foliage suits any shade of red brick. Vary the planting style in your landscaping to suit your type of home.
House Style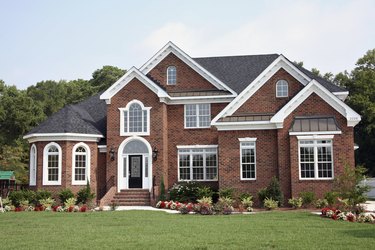 Brick homes range from traditional, formal styles to informal cottages and contemporary designs. Echo your home's style with appropriate plantings. A formal home calls for geometrical, spaced plantings with classical outlines, such as symmetrical evergreen trees and shrubs, and restrained use of colors. An informal brick home lends itself to a cottage garden and casual groupings of plants with abundant and vivid colors. A modern brick home calls for plantings that won't compete with the line and flow of the house design.
Design Elements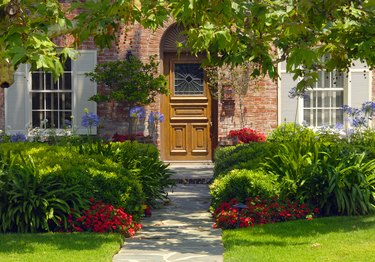 Use plants as design elements to call attention to different areas of your red brick home. For example, you could frame the entryway with paired trees or shrubs. Anchor the house corners with accent plants, such as short to medium-tall trees that won't overwhelm the house but blend it into the surrounding landscape. Colorful flowering plants bordering a sidewalk or pathway lead the eye to the home's entry. For visual interest throughout the seasons, choose a balance of evergreen and deciduous trees, bulbs, and annual and perennial flowering plants.
Brick Color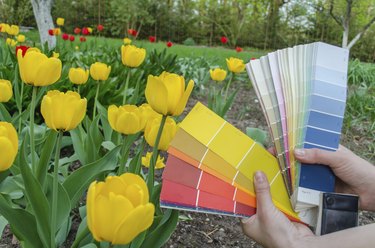 A beginning step in landscaping your home is to determine the color of its red brick. An option is to hold paint chips or paint color cards against the brick to determine its color because color can be subjective. Carry the paint color card or even a chip of an actual brick with you as you shop for plants rather than relying on a mental image of the brick's hue.
Yellow-Tinged Brick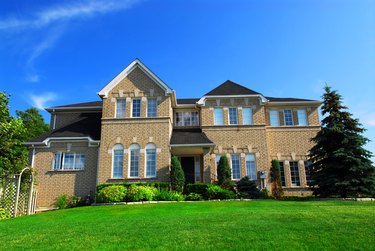 Red bricks with a yellow cast can tend toward orange, tan or brownish. Look for landscaping plants with foliage and flowers in warm tones such as yellow, gold, cream, orange and lime to emphasize the brick's color. Shrubs or trees with yellow foliage provide long-lasting color. An example of an evergreen shrub with golden-yellow coloring is "Yellow Ribbon" arborvitae (Thuja occidentalis "Yellow Ribbon"), which reaches 8 to 10 feet tall and 2 to 3 feet wide. It is hardy in U.S. Department of Agriculture plant hardiness zones 3 through 7. Choices for shorter flowering plants include annuals such as zinnias (Zinnia elegans) or marigolds (Tagetes patula) and perennials such as daylilies (Hemerocallis spp.), hardy in USDA zones 4 through 9, or butterfly weed (Asclepias tuberosa), hardy in USDA zones 3 through 9.
Blue-Tinged Brick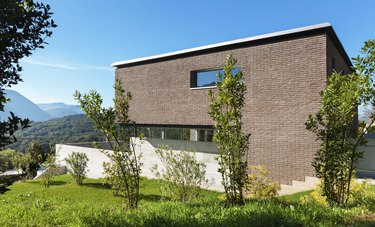 Bluish-toned red bricks may look purple, burgundy, dark red or pinkish. Complement them with plants that flower in tones of pink, violet, purple or magenta. Foliage colors that work well incorporate gray, blue, silver or white. Consider planting evergreens such as "Fat Albert" Colorado blue spruce (Picea pungens "Fat Albert"), which features blue needles and pyramidal growth. Growing 10 to 15 feet tall and wide its first 10 years, it can eventually reach 40 feet tall where it is hardy, USDA zones 2 through 8. In foreground plantings, use shorter plants such as the silvery gray "Powis Castle" artemisia (Artemisia "Powis Castle"); its mounded growth is 1 to 3 feet tall, and the plant is hardy in USDA zones 4 through 9. A herbaceous flowering plant with ranges of pink- to rose-colored flowers is the peony (Paeonia spp.), which is hardy in USDA zones 3 through 8.