If you're struggling to come up with a last-minute Halloween costume, or you just want to do something creative that everyone won't be doing this year, make yourself a jelly bean costume. This cute bag of jelly beans costume takes only mere minutes to put together, but looks just precious. Kids will love dressing up for Halloween as a bag of colorful jelly beans, and may even take home a costume contest prize.
Things You'll Need
Tape

Scissors

Markers

Construction Paper

Ribbon

Large, Clear Plastic Bag

Multicolored Balloons
Step 1
Hold a large, clear plastic bag up to your body. Cut holes out with the scissors where your arms and legs will stick out.
Step 2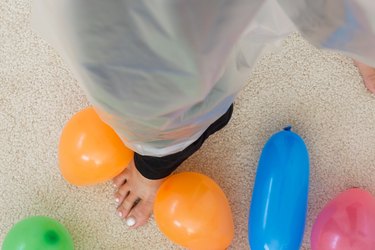 Step into the bag and put your arms and legs into the holes you created.
Step 3
Place blown up, colorful balloons into the bag to look like a bag of jelly beans. Gauge how many balloons you want in the bag. You don't want to be uncomfortable, but it should look full.
Step 4
Gather the bag around your shoulders, using tape if necessary to hold it together.
Step 5
Take the ribbon and tie it around the plastic bag to look like the top of a jelly bean bag.
Step 6
Add a label to the outside of the bag using construction paper, markers and tape if you desire. Draw a brand name on the paper or create your own brand such as "Sue's Jelly Beans."