If you're struggling to come up with a last-minute Halloween costume, or you just want to do something creative that everyone won't be doing this year, make yourself a DIY jelly bean costume. This cute bag of jelly beans costume takes only minutes to put together, and it looks just precious. Kids will love dressing up for Halloween as a bag of colorful jelly beans, and they may even take home a costume contest prize.
Things You'll Need
Large, clear plastic bag or clear trash bag

Scissors

Variety of colorful balloons

Tape

Colorful ribbon

Card or construction paper to use as label

Pen or marker
Hold a large, clear plastic bag up to your body. Cut holes out with the scissors where your arms and legs will stick out.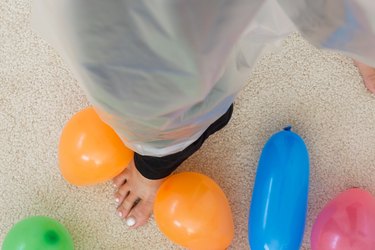 Step into the bag and put your arms and legs into the holes you created.
Place blown-up colorful balloons into the bag to look like a bag of jelly beans. Gauge how many balloons you want in the bag. You don't want to be uncomfortable, but it should look full.
Gather the bag around your shoulders, using tape if necessary to hold it together.
Take the ribbon and tie it around the plastic bag to look like the top of a jelly bean bag.
Add a label to the outside of the bag using construction paper, markers and tape if you desire. Draw a brand name on the paper, or create your own brand such as "Sue's Jelly Beans."
There you have it! This DIY Halloween costume is a simple homemade costume idea that'll be sure to satisfy the sweet tooth of your friends and neighbors. Cosplaying in this candy costume will be a hit at your next Halloween party, and you could pair it with a Jelly Belly T-shirt or accessory for added sweetness. If you make this costume for your child, make sure they don't end up in a fellow trick-or-treater's bag of goodies!