Things You'll Need
Sugar

Pectin

Saucepan

Water

Lemon juice

Port wine

Orange or anise oil

Onion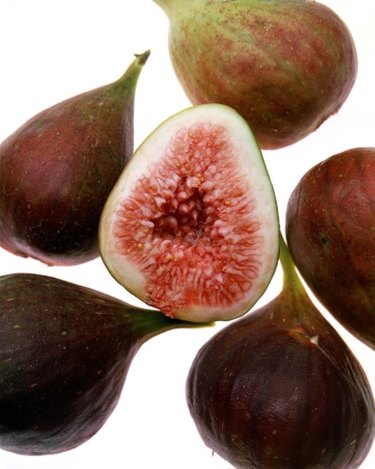 Figs are grown in warmer climates, such as the Mediterranean coast. Because fresh figs are rare in North America, most Americans' experience with figs come from the dried variety and those found in cookies. Freezing figs is a good way to use this fruit in both main dishes and desserts, because they are so adaptable to a wide variety of flavors. Once thawed, figs should be well drained in a colander because they can become quite watery.
Step 1
Thaw the figs and eat them directly. If you enjoy figs and they were frozen in a sugar syrup, they will be delicious as they are. However, if they were frozen straight, without a syrup of any kind, they may be too watery to eat on their own.
Step 2
Drain the thawed-out figs and make jam with them. For those who like strawberry jam, fig jam has a similar flavor. Crush up 4 to 5 pounds of thawed and drained figs, mix with 7 cups of sugar, a packet of regular pectin, a half cup of water, and a 1/4 cup of lemon juice. Bring it to a boil in a medium saucepan, add the remaining sugar and freeze or can to preserve.
Step 3
Poach your thawed figs in a mixture of a cup of port and a flavoring of your choice, such as orange oil or anise. Thawed figs can become bland because a lot of their flavor drains away in the liquid. Poaching them in a sauce you like can reinvigorate them.
Step 4
Make a glaze of figs and wine with other savory flavors like onion, shallot or chives. Glaze pork chops or another meat you like with the mixture.