Things You'll Need
Wooden chair

Fabric of your choice, 3 to 4 yards

Sewing pins

Sewing needle

Thread

Ribbon, 1 1/2 inches wide

Tiara or crown stencil

Imitation gemstones

Fabric glue

Letter stencils

Metallic fabric marker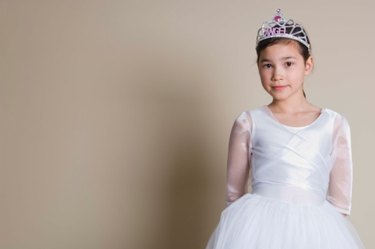 You can turn a regular wooden chair and some fabric into a throne for your own little princess. Make the throne for the guest of honor at a fairy tale or princess-themed birthday party or turn each chair into a princess throne for a Halloween party. Cover the chair with a luxurious or simple fabric in the child's favorite color and then decorate the throne with ribbons, imitation gemstones and metallic ink.
Step 1
Drape a large piece of fabric over the chair with the wrong side of the fabric facing upward. Use a luxurious-looking fabric, such as crushed velvet or satin, for a craft project with an elaborate budget. Use a simple, pretty cloth or cotton-knit fabric for an economical princess throne.
Step 2
Pin the fabric around the backrest of the chair to make a tight fit. Let the rest of the fabric drape down to the floor. Cut off the fabric at the floor line or let it flow outward from the throne.
Step 3
Remove the fabric from the chair and sew along the pinned lines. Turn the fabric right-side out and slide it back onto the chair.
Step 4
Cut a 48-inch-long piece of 1 1/2-inch-wide ribbon. Wrap the ribbon around the chair, where the backrest meets the seat of the chair. Tie the ribbon in a large bow at the back of the chair.
Step 5
Cut four additional pieces of ribbon, each about 18 inches long. Tie each ribbon in a bow and sew a few stitches between the back of the bow and the corner edges of the chair legs.
Step 6
Tape a tiara or crown stencil to the center back of the chair. Trace the shape with a piece of chalk. Remove the stencil.
Step 7
Apply a few drops of fabric glue to the back of each imitation gemstone and press the gemstones against the chalk line shape to make a gemstone crown or tiara.
Step 8
Tape letter stencils to the center front of the chair. Use stencils that spell out the little princess's name. Trace the letters with chalk. Remove the stencils and trace the letters with a metallic fabric marker.