Things You'll Need
Bubble wrap

Shipping box

Packaging tape

Greeting card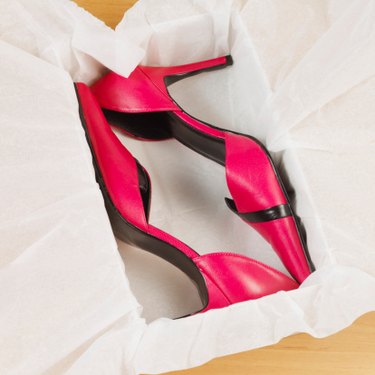 Shipping shoes to someone can be costly. If you use Parcel Post shipping, you will not have to pay for regular first-class mail prices. According to the United States Post Office website, Parcel Post provides the best value for sending gifts and other merchandise. Prices begin at $5.10 as of May 2011, and it will take from two to eight days for the recipient to receive the shoes. The prices are determined by weight and distance.
Step 1
Wrap the shoes in bubble wrap to prevent the shoes from moving around during transit. Place the pair back in the original shoebox so everything fits snugly.
Step 2
Tape the top of the box securely to the bottom and place inside a shipping box that is almost the same size of the shoebox so it will fit without moving around. This way you won't have to stuff the shipping box with packing materials that will add to the weight of the package.
Step 3
Place a greeting card inside the shipping box. Close the box and tape the bottom and top with three strips of 2-inch reinforced packaging tape.
Step 4
Address the box with the recipient's and your mailing addresses.
Step 5
Take the package to your local post office and request Parcel Post shipping. Your package should arrive within eight days.