Things You'll Need
2 large eggs

Mixing bowl

Small plastic container

1 tsp. fresh lemon juice

Hand mixer or stand mixer

3 cups powder sugar, sifted

3 tbsp. meringue powder

4 cups powdered sugar

1/2 cup warm water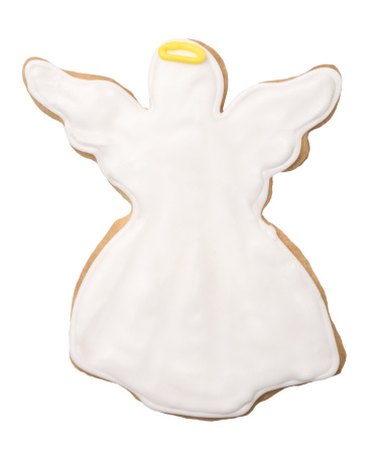 Royal icing dries to a smooth finish, which makes it ideal for icing anything with a hard, flat surface, such as cookies. Bakers also using royal icing to add colorful details to cookies and other desserts. When you ice or decorate cookies with royal icing, you can pack the cookies into containers or cookie jars without fear of the icing smudging and making a mess. You can add gel or paste food coloring to royal icing to increase the variety of colors you can use for your decorating.
Royal Icing with Egg Whites
Step 1
Separate the egg whites from the egg yolks and put them in a large mixing bowl. Reserve and refrigerate the egg yolks for use in another dish or recipe.
Step 2
Mix 1 tsp. fresh lemon juice into the egg whites using a hand mixer or a stand mixer. Mix until the two are well-combined.
Step 3
Slowly add 3 cups powdered sugar to the egg white and lemon juice mixture. Add the powdered sugar a little bit at a time with the mixer on a medium setting. After all the sugar is added, turn the mixer to high and mix for about five minutes or until the frosting is smooth and forms stiff peaks.
Step 4
If the icing appears too thin, add a little bit more powdered sugar to it. If it appears to be too thick, add a drop or two of lemon juice until the desired consistency is achieved.
Step 5
Use the icing immediately. Transfer the icing to a piping bag or plastic container with a lid. If the icing is left out, the air will dry it too quickly and it will be too hard to use.
Royal Icing with Meringue Powder
Step 1
Use a hand mixer or stand mixer to mix 4 cups powdered sugar with 3 tbsp. meringue powder in a mixing bowl until combined.
Step 2
Add 1/2 cup warm water and mix on high speed for about five minutes or until stiff peaks form.
Step 3
Add more powdered sugar if the icing is not thick enough and mix well until the desired consistency is achieved.
Tip
Add gel or paste food coloring to color the royal icing.
Warning
Keep royal icing covered when it's not in use or it may quickly dry out.