Things You'll Need
2 bowls

Spoon

1/4 cup cooking oil

2 1/2 tbsp. lime juice

2 tbsp. Worcestershire sauce

2 cups beef or chicken broth

1 1/2 tsp. cumin

1 tsp. salt

1/2 tsp. pepper

1/2 tsp. oregano

2 lbs. steak or chicken

2 bell peppers

1 onion

Lids or plastic wrap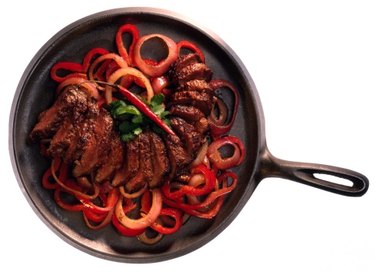 Sizzling fajitas spiced just right provide bold flavor to your Mexican-inspired meal. Both chicken and steak, either alone or together, combine well with the seasonings in a rich fajitas marinade. Marinating the meat and vegetables allows the food to absorb and blends the flavors. Marinades also tenderize tough cuts of steak. Longer marinating allows the food to fully absorb the flavors, but even a short marinating period improves the flavor of the fajitas.
Step 1
Combine the oil, lime juice, Worcestershire sauce and broth in a large bowl. Stir in the cumin, salt, pepper and oregano.
Step 2
Divide the marinade into two portions. Use 2/3 for the meat and 1/3 for the vegetables.
Step 3
Remove the stems and seeds from the bell peppers. Trim the ends from the onions and remove the skin.
Step 4
Slice the bell peppers and onions into ½-inch strips. Place the strips in the reserved marinade.
Step 5
Trim the fat, skin and bones from the chicken or steak. Cut the meat into ½-inch-wide strips. Place the strips in the meat marinade.
Step 6
Cover the bowls with a tight-fitting lid or plastic wrap. Marinate in the refrigerator for at least two hours, up to 24 hours, before cooking.
Tip
Add red pepper flakes, garlic or cilantro to the marinade, if desired. A variety of herbs and spices complement both chicken and beef.
Warning
Wash any utensils that comes in contact with raw meat or poultry. Discard the meat marinade after the meat soaks. The vegetable marinade can be added to the cook pot.