Things You'll Need
Jute fabric

Jute twine

Thread

Scissors

Sewing machine

Measuring tape

Straight pins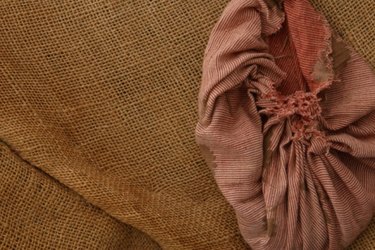 Jute is a type of hibiscus plant in which the fibers of the plant are used to make fabric. The fiber is used often in packaging and for making bags and sacks, especially for agricultural purposes, such as potato sacks. Sometimes referred to as burlap or twine, this type of fabric is often inexpensive and can create natural-looking bags that can hold heavy items in the agricultural industry or can simply be used for gift bags, purses or even beach bags.
Step 1
Measure an even square of fabric and cut out.
Step 2
Place the square on the sewing machine and sew a straight stitch along all of the edges to prevent the fabric from fraying.
Step 3
Fold the fabric in half width-wise so that one side of the square is closed by the fold and there are three remaining open sides. Pin two of the remaining open sides in place with straight pins, leaving one side open for the top of your bag.
Step 4
Sew the fabric together along the two pinned sides using a straight stitch and a 1/2-inch seam. You should now have a sack formed with an open top.
Step 5
Turn the bag inside out so that all of the stitching is hidden.
Step 6
Fold the top edges of the bag down inside the bag approximately 1/2 inch and sew a topstitch along the edges.
Step 7
Cut a long piece of twine for a handle and sew one end of the twine to the inside left side of the bag using a double stitch and one end to the inside right side of the bag using a double stitch. Reinforce your stitching multiple times by backstitching to ensure the handle is secure.
Tip
To create a sack instead of a bag, either add a drawstring to the bag instead of a handle or skip both.