Things You'll Need
Painted panel

Enamel paint in air brush, paint gun or spray paint can

Water in spray bottle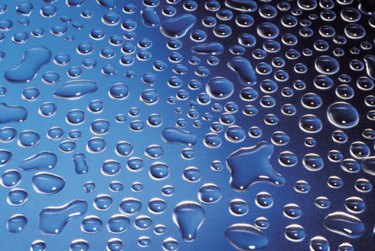 Painting with a water droplet effect looks like it takes a lot of time, but it is a quick technique that is no more complicated than applying spray paint. Artists typically achieve good results on the first try. This method of painting the effect works best with the well-controlled paint of an air brush or a paint gun, but can be achieved with spray paint as well. Painting the water droplet effect uses only water and enamel paint.
Step 1
Lay a painted panel on newspaper or drop cloth in a well-ventilated area. This panel should be clean and dry, but it can be made of any material and painted with any type of paint that does not run when wet. Enamels and all-purpose spray paints work well for this.
Step 2
Mist the panel with water from the spray bottle. If you do not like the pattern, wipe it dry and spray again.
Step 3
Spray the panel with paint immediately. Hold the paint 18 to 24 inches from the surface, and at a low angle. Mist lightly onto the sides of the water droplets. Spray from only one side of the panel.
Step 4
Allow to dry completely, until the water had evaporated and the paint is dry. Coat with clear coat or other sealant.