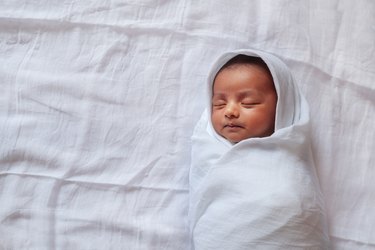 The right kind of blanket or throw will keep you nice and warm without being too bulky or heavy. The only thing is that sometimes, they start to slough off some of the material, so you need to know how to stop a blanket from shedding. Man-made, soft fabrics made with Microtec may have this issue, but you can prevent it with the right kind of care.
Fabrics that contain short fibers, such as cotton, are more prone to pilling because of the length of their fibers. In addition, fibers like synthetic acrylic, nylon and polyester do not absorb as much water as others do, so they are also more likely to pill. It is not unusual for Microtec fleece blankets and throws to shed.
Newer fleece blankets and throws often shed until they have been washed a few times; this is normal. To stop a blanket from shedding, first read the label for the washing instructions.
Detergents and Softeners to Use
Most blankets of this material should be washed with mild detergent and cold water. Hand washing is always safest but is usually not necessary.
Fabric softeners will break down softer fabrics, like Microtec, so be sure not to use any when laundering these throws and blankets. Instead, add 1/2 to 1 cup of vinegar during the rinse phase; this is thought to help stop blankets from shedding.
Air drying is best, but you can put a fleece blanket in the dryer if the label directs you to do so. To further prevent shedding, only use low heat and toss in a few pieces of velvet or corduroy fabric; both of these attract lint.
How to Stop Blankets From Shedding
Polyester blankets and throws made with Microtec are less prone to shedding but should still be washed with care. You can try using cool or warm water to prevent the material from getting damaged. You should air dry or tumble dry these blankets and throws on low or medium heat. This material is very sturdy and durable and should not wrinkle significantly.
If your blanket or throw is shedding, you can use a pumice stone, lint roller or masking tape to remove any pills or excess fabric on the surface. Another option is to use a sweater shaver. Also called "defuzzers," these act like electric razors and can evenly cut off shedded fabric, pills and fuzz. Just be sure that the material is completely dry and work slowly to prevent any rips or tears.
What Is Microtec Used For?
Traditionally, Microtec was used in baby blankets and other very soft throws. Companies like Free Country also use Microtec in their clothing, including their activewear and fleece garments. Microtec makes the products more flexible, moisture-wicking, soft and breathable, and it is blended with polyester and other fabrics.
Activewear made of this material can also shed and should be washed according to the label instructions. As a guideline, machine-washable fleece should be washed on a gentle cycle with low heat and a mild detergent. Air dry for best results.