Growing plants indoors with a hydroponics system does not have to be an expensive investment. You can make your own plant net pots by recycling products that are available in your home. Recycling plastic containers for gardening saves you money with the hydroponics system set up and maintenance. This also makes your hydroponics system earth friendly. Select containers that have a tapered shape for best results with fitting the net pots into the system.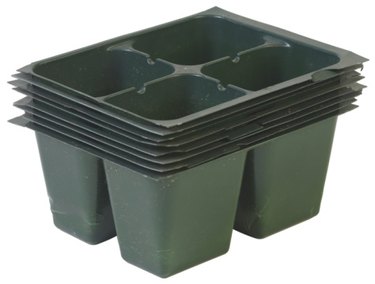 Things You'll Need
1/2 Inch Bit

Plastic Pots

Dishwashing Soap

Drill

Mesh Fabric, Optional
Step 1
Clean 3-inch-diameter plastic pots or plastic containers with soap and water. You can also cut the top off plastic bottles to recycle them into a 3- to 4-inch-tall containers.
Step 2
Drill eight to 10 holes with a 1/2-inch-diameter evenly throughout the bottom of the container or pot.
Step 3
Drill 1/2-inch diameter holes evenly around the outside of the container, spacing them about 1/2-inch apart and 1 inch from the top.
Step 4
Rinse the netted pots to remove any dust or plastic particles from the drilling.
Step 5
Pour hydroponics medium into one of the pots and move it around gently to see if the medium falls out. Place a mesh fabric liner inside the pots if the holes allow the medium to fall out.
Tip
Items that work well for making netted pots include potting containers, 3-oz. plastic cups or soda bottles.
Choose containers that did not hold chemicals or toxic substances that may leave residue behind.