Things You'll Need
Straw wreath form

Pine cones

Wired floral picks (one for each pine cone)

Ribbon bow

Hot glue and glue gun

Wire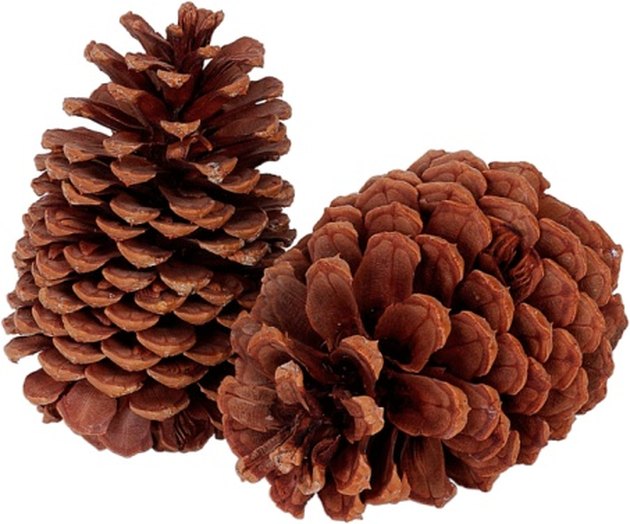 Make a natural wreath from pine cones you collect yourself. The pine cones last a long time, allowing you to use your wreath for many years. A pine cone wreath works well for both fall and winter decorating, depending on the color of bow and the embellishments you choose to add. Create a large wreath to grace your front door or entryway, or a series of small wreaths to hang from fence posts or inside your windows.
Step 1
Lay a straw wreath form face up on your work surface. Arrange small- to medium-size pine cones on top the wreath form until you are pleased with the design.
Step 2
Wrap the wire end of the floral pick around the center of one of the pine cones. Twist the ends of the wire together on the back of the cone so the pick sits snugly against the cone with the back of the pick between the tines of the cone. A properly situated pick sticks straight out from the back of the cone.
Step 3
Insert the pick into the wreath form until the cone sits tightly against the wreath. Twist the cone around a full turn to tighten the wire so the cone is attached tightly to both pick and wreath form. Repeat for each remaining pine cone until the wreath is covered.
Step 4
Place a quarter-size dollop of hot glue on the back of the center knot of your bow. Glue the bow to the top or bottom of the wreath, depending on your preferred design.
Step 5
Wrap a length of wire around the top center of the wreath. Pull the wire so it slips between the pine cones and isn't visible from the front. Twist the ends of the wire together to create a hanging hook.
Tip
Add ribbons, glitter and small embellishments to the wreath before hanging. Use hot glue or craft glue to attach the embellishments.