Things You'll Need
Beeswax

Food grade mineral oil

Borax

Water

Fragrance oil (optional)

2 tall glass jars

Large saucepan

Circular metal cooking grid

Glass mixing bowl

Electric whisk

Cooking thermometer

Glass stirring rod

Glass storage jar with secure, airtight lid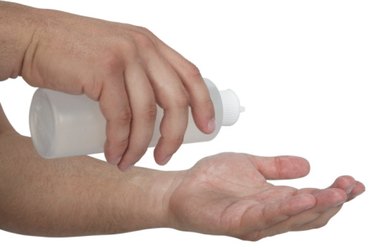 Emulsifiers are natural or synthetic substances added to topical skin care products -- such as moisturizing or cleansing lotions -- to prevent the ingredients from separating. They work by binding together water and oils to create a stable mixture. Common emulsifiers you may recognize from the ingredients list for cosmetic preparations include lecithin, cetyl alcohol and polysorbate 20. You can make your own, all-natural emulsifier using beeswax and borax.
Step 1
Place 26g beeswax and 55ml mineral oil in a tall glass jar.
Step 2
Place 2g borax and 22ml of water in another tall glass jar.
Step 3
Place a circular metal cooking grid at the bottom of a large saucepan.
Step 4
Partly-fill the saucepan with water and place the glass jars containing the ingredients on top of the grid.
Step 5
Gently heat the contents of the jars to melt the beeswax and dissolve the borax. Do not allow the ingredients to boil.
Step 6
Remove from the heat, once the beeswax is fully melted and the borax completely dissolved.
Step 7
Combine the contents of the jars in a glass mixing bowl. Blend them together using a electric whisk for approximately ten minutes, or until the mixture forms a white cream.
Step 8
Continue to stir intermittently, until the mixture cools to 40 degrees Celsius. Use a cooking thermometer to monitor the temperature.
Step 9
Add one drop of fragrance oil and stir in well, using a glass stirring rod. Skip this step for an unscented emulsion.
Step 10
Transfer the emulsion to a glass jar for storage. Secure the lid.
Tip
The above recipe makes an ideal moisturizing hand or body lotion.
Experiment by adding different essential oils or other skin care ingredients to your emulsion to suit your specific needs. Add any additional ingredients only once the mixture has cooled to at least 40 degrees Celsius.
Warning
Perform a skin patch test before applying your homemade emulsion to a large body area to check for allergic reaction to the ingredients.