Things You'll Need
Blue shorts

Yellow shirt

Yellow socks

Red shoes

Blue baseball cap

Green felt (optional)

Yellow felt (optional)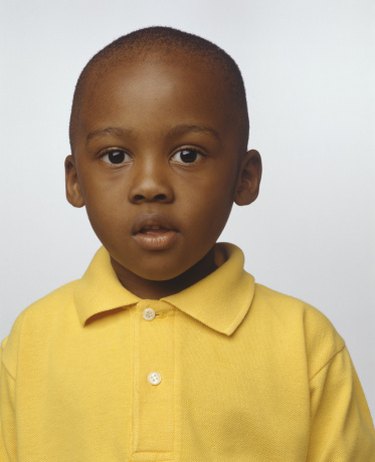 If you're the parent of a young child, chances are you're familiar with the character "Caillou." The little 4-year-old boy is the main character of the beloved PBS children's show of the same name. Like most children, Caillou is an inquisitive character who spends his days learning and exploring the world. If your little one enjoys the show and wants to portray Caillou for Halloween, or simply for play, you can easily make a Caillou costume from basic clothing items.
Step 1
Dress the costume wearer in a pair of blue shorts. The shorts can be made from denim, cotton, twill or linen, so long as they are blue.
Step 2
Put a yellow short-sleeved shirt on the person who is dressing up. The ideal shirt is a yellow polo shirt that features a red collar or a plain yellow polo shirt. If you can't find one of these shirts, use a plain yellow T-shirt.
Step 3
Purchase yellow socks for the costume wearer to sport. The socks should extend up past the ankles, as they should be able to be seen when shoes are worn.
Step 4
Put red shoes on the person who is dressing up as Caillou. In the television show, the little boy wears red shoes that feature a green strap. Since it may be difficult to find shoes that match this description exactly, red sneakers or red saddle shoes will work fine. You can add a green strip of felt to the red shoe if desired.
Step 5
Complete the costume with a blue baseball cap. The character wears a blue baseball cap that has yellow underneath the brim. If you can't find a baseball cap that has yellow underneath the brim, you can cut a piece of yellow felt and glue it underneath the brim. Alternatively, a plain blue cap is suitable.