Things You'll Need
Black marker

Scissors

Clear nail polish

Double-sided fabric tape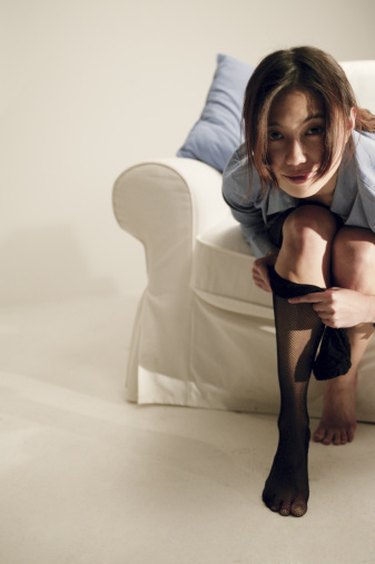 Pantyhose, which cover your legs and panty area, prove confining and uncomfortable in warmer temperatures. If the full body coverage of pantyhose doesn't appeal to you, there's no need to purchase an alternative, such as a stocking. Instead, you can make your own stockings out of your unwanted pair of hose. Whether you want thigh-high or knee-high stockings, a few alterations and a little extra adhesive help can turn your old hosiery into a new and useful product.
Step 1
Put on the pantyhose and mark them with a black marker where you want to cut them -- either mid-thigh or right below the knee.
Step 2
Remove the pantyhose and cut each leg where you made the mark to remove the top portion of the hose.
Step 3
Paint the cut edges of the pantyhose with clear nail polish and allow the nail polish to dry. This will seal the edge of the stockings and keep them from unraveling so you can use them more than once.
Step 4
Slide into your new stockings and attach double sided tape to your skin and the upper edge of the stockings. This will hold them in place while you wear them.
Tip
Use enough double-sided tape to secure the stockings, not just one or two tiny pieces.
Apply clear nail polish immediately around the edge of any laddering or runs that may develop during wear. This will help preserve the stockings for future use.
Warning
Don't use a permanent marker when marking the pantyhose because it might mark through the hose and stain your skin.