Things You'll Need
Light green flat sheet

Brown flat sheet

Fake autumn colored leaves

Fake green leaves

Glue

Brown ribbon

Green ribbon

Bobby pins

Shimmery copper colored eyeshadow

Black eyeliner

Lotion

Green glitter

Mascara

Light green sparkly nail polish

Copper sparkly nail polish

Sandals

Gold or copper bangles

Pomegranate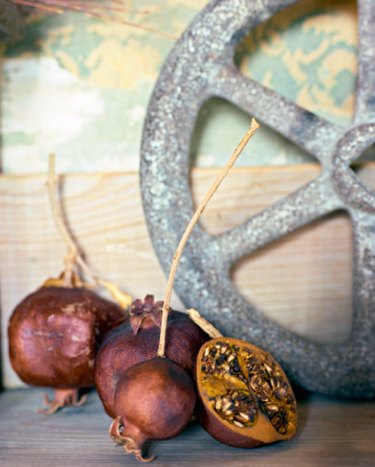 Though many girls wish to be queens and princesses when they grow up, few of them wish to be the queen of a place such as the Underworld. Alas for poor Persephone, a young lady who so entranced Hades, ruler of the Underworld, that he rose from below and kidnapped her. Even the crop-withering wrath of her goddess mother Demeter could not persuade Hades to let her return for more than part of the year, so a costume for Persephone mixes the greens of spring and the darker tones of fall.
Step 1
Wrap the brown sheet around your body, then take two corners of a shorter edge of the sheet and tie them in a knot over one shoulder. Repeat this with the green sheet, layering it over the brown one, but tie it over the opposite shoulder.
Step 2
Glue the autumn colored leaves on the brown sheet and the green leaves on the green sheet. Wait about five minutes for the glue to become tacky.
Step 3
Take sections of your hair and messily pin them to your head with the bobby pins, then pin the green and brown ribbon throughout your hair, allowing the two colors to cross. Pin autumn colored leaves on one side of your head and green leaves to the other side.
Step 4
Apply copper eyeshadow to your eyelids, then apply eyeliner around edges of your eyes and smudge with your finger to create a smoky look. Lightly apply lotion around eyes and dust glitter onto the lotion before it dries. Apply mascara to upper and lower eyelashes.
Step 5
Apply green nail polish to fingers and copper nail polish to toe nails and wait about 10 minutes for it to dry.
Step 6
Put on your sandals and bangles, grab your pomegranate and prepare to party like a goddess!
Tip
For a sexier or more ethereal costume, substitute sheer curtains for the sheets.