Things You'll Need
Old newspapers

Parchment paper

Parchment paper spray glue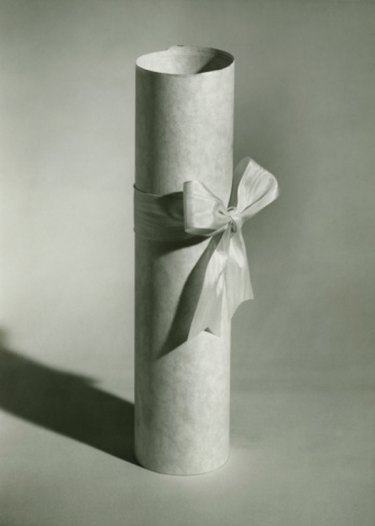 Parchment paper is a virtually transparent paper that can be used in a variety of craft projects that involve glue. It can be painted on, embossed, cut and reshaped by using steam from a low-temp iron. Once you have the desired shape and size you need, it is important to use the right kind of glue for your parchment paper. Glue sprays designed specifically for delicate papers, such as Perga Spray or 3M Spray Mount Spray Adhesive, are suggested. These non-staining sprays allow users to reposition the parchment without wrinkling the paper.
Step 1
Cover your work area with old newspapers. Spray glue can accidentally come into contact with the area around the parchment paper.
Step 2
Lay the parchment paper down onto the covered work area.
Step 3
Follow the instructions on the can and hold the can about 6 to 8 inches away from the paper. Spray the parchment paper, giving it a thin, but complete covering. Allow the glue to get tacky for about one minute.
Step 4
Lift the parchment paper and lay it onto the desired item that you want to glue it onto. Press the paper gently into place.
Tip
Keep spray glue containers at room temperatures and shake them well before use.