Things You'll Need
Nonstick spray

1 onion, chopped

1 green pepper, chopped

1 bud garlic, chopped

1 pound kielbasa sausage

1 jar spaghetti sauce, 24-26 ounces

Instant-read thermometer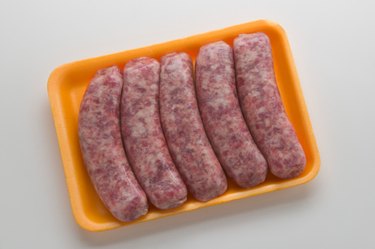 Sausage is a favorite dinner meat, offering savory dishes of flavored pork, beef, chicken and turkey links. Italian sausage comes in hot and sweet varieties. A cookout for many people means there will be beer brats on the grill. There are many kinds of sausages including smoked sausages, kielbasa sausages and highly spiced andouille sausages, which are a Cajun variety. Some sausages are already cooked when bought, while others must be cooked thoroughly before eating. One of the easiest ways to cook sausage is in the slow cooker.
Step 1
Spray the inside of the slow cooker with nonstick spray.
Step 2
Place chopped onions, peppers and garlic in the bottom of the slow cooker.
Step 3
Arrange kielbasa links on top of the vegetables.
Step 4
Pour spaghetti sauce over the kielbasa sausages and vegetables.
Step 5
Cover and cook on low for six hours.
Step 6
Check temperature in thick part of sausage with an instant-read thermometer. Sausages are safely cooked when they reach an internal temperature of 160 degrees Fahrenheit, with the exception of turkey and chicken sausages, which must be cooked to 165 degrees.
Step 7
Serve cooked sausage on buns or atop pasta, potatoes or rice.
Tip
Cook bratwurst in a slow cooker with lots of onions and beer.
Put andouille sausage in the slow cooker with onions, garlic, bell peppers and seasonings to make jambalaya, gumbo or etouffee.
Combine a savory sausage with navy or great northern beans for a winter dish of cassoulet.
Warning
Beware the hot sausage when it is first pierced after being cooked. Juices under pressure can squirt out. To avoid this, remove sausages from the slow cooker with tongs and allow to cool slightly before eating.