Things You'll Need
Image or design

Graph paper (10 squares to the inch; 2.5 cm)

Tape

Pencil

Crayons or colored pencils

Embroidery floss color chart

Stitch creation software

Online stitch conversion tool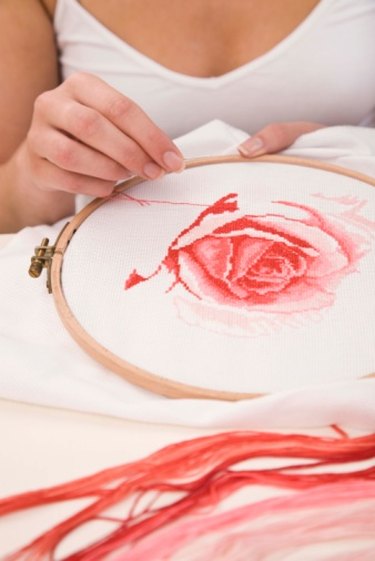 You can create your own unique cross-stitch pattern or chart from any image or drawing. There are three methods for doing this: use graph paper to draw your pattern by hand, convert a digital image using a software program specifically designed for creating stitch charts, or use an online conversion tool. Whichever method you choose, you can then use your chart to stitch a one-of-a-kind piece of art that is truly your own.
Step 1
Trace an image or design onto graph paper. Lay a sheet of graph paper over the image or design that you want to turn into a cross-stitch pattern and tape it to a window with a lot of natural light. Trace the image or design onto the graph paper using a pencil. Remove the design from the window and square off the design on the graph paper. Create a new outline of the design in pencil, using the squares closest to the original line. Match colored pencils or crayons to floss colors on the color chart and then use the colored pencils to color in the details square by square. Each square on the graph paper becomes a cross-stitch when working the pattern.
Step 2
Use a software program, such as PCStitch, to convert a digital image into a cross-stitch pattern. During the import process, you select the size and number of colors and the software automatically maps the colors to the floss.
Step 3
Use an online tool to convert a digital image into a cross-stitch pattern. Upload an image file from your computer to the website. Modify the image as needed to get the desired result. Press a button and the online tool generates the stitch chart for you. Usually, patterns with less than 1000 stitches are free. You pay a small fee for patterns with more stitches.