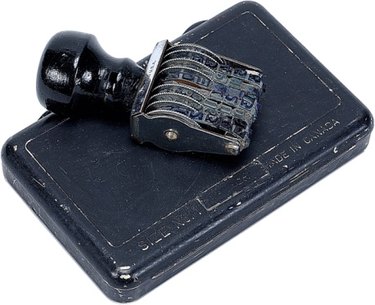 The Brother 4090 is the largest of the Brother pre-inked stamps, at 1.55 by 3.54 inches. Brother's stamps do not use an internal ink pad system. Instead, they employ an oil-based ink that dispenses small drops of ink onto the stamp. Because of this, it is important to only use inks made specifically for Brother products in your stamp. These inks are sold in black, blue, red and green.
Step 1
Pull straight up on the top portion of the stamp. The entire colored top will lift off.
Step 2
Locate the refill tubes. These will be the only openings you see. Add four to six drops of ink into each tube.
Step 3
Sit stamp upright and let sit open for at least 10 minutes. Replace the colored top and test the stamp.
Tip
If the stamp still is not dark enough, remove the top of the stamp again. Add two drop of ink and test again.
Warning
Never try to refill your stamp with a different color of ink. The ink colors will mix and may ruin your stamp.