Things You'll Need
Mixing container

Chilled pinot noir

Chilled brandy

Chilled fruit juice of choice

Large, colorful pitcher

Stirring spoon

Fruit of choice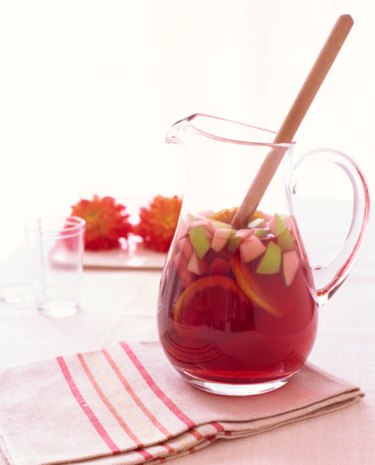 Sangria is a punch-style drink of Spanish origin. It consists of a mixture of brandy and wine, with fruit juices and fruit added. Sangria is typically served from a large, colorful pitcher into standard red wine glasses. Other distilled spirits or liqueurs such as Triple Sec or Cointreau can be used as a substitute for brandy. Various types of red wine can be used to make sangria. Fans of pinot noir appreciate its fruity, spicy flavors, choosing it over other red wines when making sangria.
Step 1
Calculate your desired ratios of pinot noir, fruit juice and brandy. One part brandy to five parts pinot noir and five parts fruit juice is a typical mixture, but these amounts can be adjusted to taste.
Step 2
Combine the pinot noir, fruit juice and brandy in the mixing container, stirring briefly.
Step 3
Add small chunks or slices of fruit to the mixing container.
Step 4
Transfer the pinot noir sangria to the large pitcher. Keep remaining sangria chilled until needed.
Tip
Pair a pinot noir sangria with foods that complement that type of wine including strong cheeses, hearty tomato dishes —such as spaghetti and lasagna — or creamy seafood dishes.
Sangria can be made with a sparkling pinot noir.
Some pinot noir sangria recipes do not contain fruit juices. These types of sangrias have a higher alcohol content.
Warning
Sangria pitchers are beautiful works of art, but be sure that any pitcher used for mixing and serving sangria does not contain lead. Old china pitchers, lead crystal pitchers or pottery pitchers can be dangerous if lead is present in the material or in the glaze.