Things You'll Need
Steel wool pad

Cloth

Vegetable oil

Coarse or kosher salt

Rubber gloves

Paper towels

Sponge

Dish detergent

Towel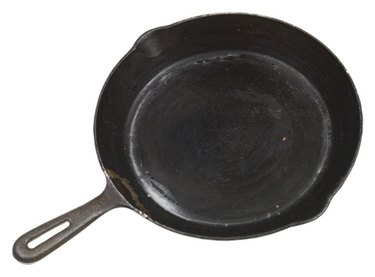 Cast iron pans are durable, long lasting and non-stick when correctly seasoned. Cast iron pans are ideal for slow cooking, baking and browning meats because of their ability to evenly diffuse heat. However, without a proper seasoning layer, cast iron pans can rust. If the pan isn't seasoned at a high enough heat or too much oil is used, it can result in a sticky residue. Clean your rusty, sticky cast iron pan to restore its performance.
Step 1
Wipe the cast iron pan with a fine steel wool pad to remove any rust. Alternate the steel wool pad with a cloth until the rust is gone.
Step 2
Heat the pan on the stove over medium-low heat, and add enough vegetable oil to coat the bottom of the pan with a thick, even layer. Allow the pan to heat for five minutes, and turn off the heat. Wait until the pan is cool enough to touch but still warm before proceeding.
Step 3
Add 2 to 4 tbsp. of coarse salt to the pan, and put on gloves.
Step 4
Hold the handle of the pan with a pot holder, and scrub the pan with a thick layer of paper towels using the salt and oil paste as an abrasive. Use more paper towels, salt or oil as needed until the pan is completely cleaned of rust.
Step 5
Wash the pan in the sink with hot water, a sponge and dish detergent. Rinse it thoroughly with water.
Step 6
Dry the pan with a clean towel or paper towels.
Step 7
Dampen a paper towel with 1 or 2 tsp. of vegetable oil. Wipe the interior of the pan evenly with the paper towel to coat the pan lightly with oil. Wipe out any excess with a clean paper towel.