Things You'll Need
Gum Arabic powder

Water

Cup

Measuring spoons

Watercolor paints

Watercolor palette

Watercolor brush

Watercolor paper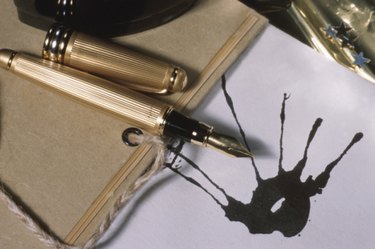 Once used in embalming in Ancient Egypt and as an ingredient in poultices, gum Arabic is used today by artists, cooks and manufacturers. Gum Arabic is in high demand by artists and scribes as it is used in inks, watercolors and dyes. Technically, Gum Arabic is the hardened sap of the Acacia Senegal tree found in arid lands, but it is now sold as a dry mix or fine powder. As it has a substance that holds other substances together, manufacturers make gum Arabic a stable in the ingredients of many medicines, inks and paints, to pastries, syrups and soft drinks. It is extremely soluble in water and lacks any taste.
Gum Arabic in Adhesive
Step 1
Stir gum Arabic in cold water in a 1-2 ratio and heat the mixture until it is bowling.
Step 2
Stir constantly as the water boils for 15 minutes.
Step 3
Strain the mixture to remove any residual lumps and cool the mixture. The paste is now ready to use.
Gum Arabic in Watercolors
Step 1
Stir gum Arabic in cold water in a 1-6 ratio and stir the mixture vigorously. If needed, add more water until all the dry gum Arabic is dissolved.
Step 2
Take a palette and, with a brush, mix a shade of watercolor paint on it. Dip the brush in the gum Arabic solution and gently mix it with the paint on the palette. There is no hard and fast rule about the paint and gum Arabic mixture ratio.
Step 3
Try the color mixture on watercolor paper and wait until it dries. If the paint cracks then further dilute the gum Arabic solution.