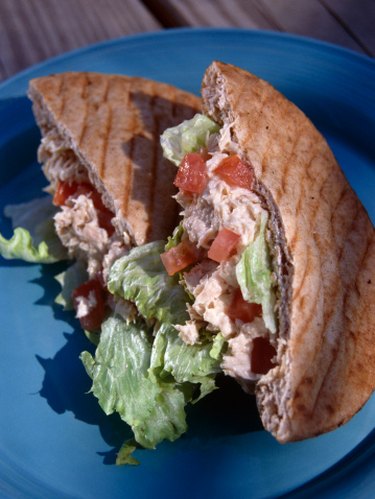 Tuna salad is a healthy alternative to eating fast food for lunch, and it's also simple to make. In addition, you can add a variety of inexpensive ingredients and turn it into a sandwich. Some good snacks to eat with tuna salad include whole wheat crackers, potato chips, pickle slices or baby carrots. However, when you add too much salt to the tuna salad, it becomes difficult to enjoy. But there are ways you can reduce the salt in it.
Step 1
Add some sweet ingredients to the salad. Add 2 tsp. of sweet pickle relish or onion relish the tuna salad. Or, if you have some red wine vinegar or apple cider vinegar, add 2 tsp. to the salad.
Step 2
Add vegetables to the tuna salad. This will help dilute the saltiness. Add some colorful and chunky vegetables such as tomatoes, carrots, celery, zucchini or eggplant. Be careful not to add too many vegetables as this could take away from the flavor of the tuna in the salad.
Step 3
Add a low-sodium or reduced-fat creamy ingredient such as sour cream or mayonnaise. When doing this, only add enough of it to reduce the saltiness that's in the salad - too much sour cream or mayonnaise will make it taste less like a tuna salad.