Lifesize cutouts range from images of famous people to images of equally famous cartoon characters doing something funny. Making your selection depends on whether you want to remove the face of the person or character so that a person can insert his own face in the hole, or if you intend the cutout to stand next to people when they are taking photos. Both cutouts are made in a similar way.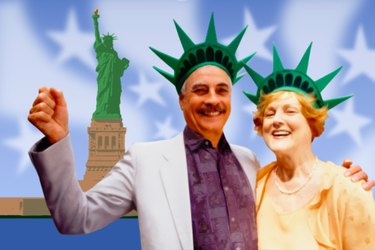 Things You'll Need
Plastic Wallpaper Smoother

Primer, Tray, Roller, Brush

High Resolution Image

Wallpaper Brush

Printout

Jigsaw

1/2-Inch Plywood

Wallpaper Paste

Drill

Sander Or Sandpaper And Files
Step 1
Find a high resolution image online of the person, character, cartoon, famous scene or funny scene. A high resolution image is at least 3 mega pixels. Download the image to your computer by double-clicking your mouse to bring up your mouse menu and clicking on "Save." Insert a thumb drive into a USB port in your computer and save the image to the thumb drive by opening the image and clicking "Save as" and then selecting the thumb drive as the location to save to.
Step 2
Take the thumb drive to a photocopy store that prints out full-size signs and images. The photocopy store will take the image off the thumb drive and enlarge it to 2 or 3 percent larger than life size. They can remove the background so that the background is white and print it out in the large size. Opt for the image on vinyl or canvas if you are using it outside.
Step 3
Take the printout home and unroll it. If you want to cut around the outside of the image, use an artist knife with a fresh blade. If you want to cut out the face and leave everything else, this is when you make those cuts as well.
Step 4
Position the cut copy on a 4-by-8-foot sheet of 1/2-inch-thick plywood. Draw around the cut out area and mark which parts of the plywood need to be removed. Drill holes into the discard areas and use a jigsaw to cut around the lines. Sand all of the edges with an orbital sander until they are smooth.
Step 5
Paint primer on all sides and edges of the plywood using a roller, brush and tray. Allow the primer to dry 12 hours. Paint the front side of the plywood using wallpaper paste. Press the image onto the plywood and smooth the image using a plastic wallpaper edge. Allow the image to dry completely before trimming any excess edges.
Tip
Letters or a message can be added to the image at the copy store. This can personalize an image and make it extra special.