Things You'll Need
32 shrimp

Paper towels

2 tbsp. tomato paste

1/2 tsp. extra virgin olive oil

1 1/2 tsp. water

Small bowl

Spoon

1/2 tsp. minced garlic

2 tbsp. cilantro

1 tsp. sugar

1 1/2 tsp. Jamaican jerk seasoning

Baking pan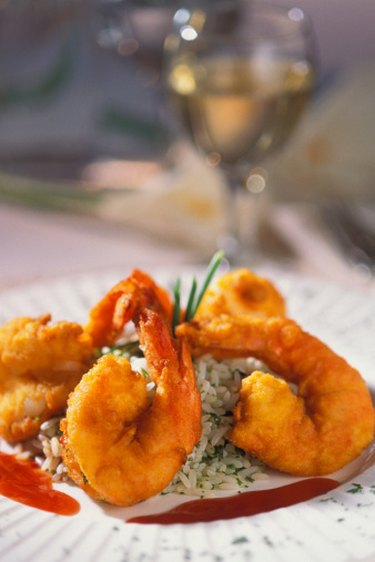 Jamaican jerk seasoning has a hot, spicy flavor. The seasoning adds bite to a number of foods, including shrimp, other shellfish, chicken and fish. It contains a variety of ingredients, most notably allspice and chiles. Stores typically sell it as Jamaican or Caribbean jerk spice. You can create a marinade with the seasoning to coat raw shrimp and bake it in the oven to infuse the shellfish with spicy flavors. You also can add the cooked shrimp to a salad or put it on skewers to make kabobs.
Step 1
Rinse peeled and deveined shrimp under cool running water. Pat the shrimp dry with paper towels after you rinse it.
Step 2
Combine the tomato paste, olive oil and water in a small bowl. Add the minced garlic, cilantro, sugar and Jamaican jerk seasoning to the mixture.
Step 3
Soak the shrimp in the marinade. Place the shrimp in the refrigerator as the oven preheats.
Step 4
Heat the oven to 325 degrees Fahrenheit.
Step 5
Place the shrimp into a baking pan in a single layer.
Step 6
Bake the shrimp for 15 to 20 minutes or until the shrimp cooks thoroughly. Shrimp will appear opaque and light pink instead of translucent.
Step 7
Remove the shrimp from the oven. Serve the shrimp immediately.
Tip
Pull the head and legs off the shrimp if they remain intact. Hold the shrimp so that the bottom faces you and place a thumb on each side of the shrimp. Peel back the sides of the shrimp shell and discard.
Remove the vein by slicing down the back with a sharp knife to expose the vein. Remove the vein with a toothpick or your fingers and discard.
Purchase Jamaican jerk seasoning at specialty food or gourmet stores if you cannot find it at your local grocery store.
Warning
Wash your hands after handling raw shrimp to prevent a food-borne illness.