Things You'll Need
Sewing machine or needle and thread

Pins

Scissors

Seam ripper

Additional fabric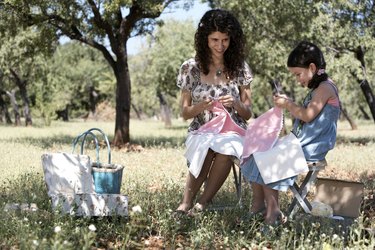 Costumes come in all shapes and sizes. You might get them secondhand at a thrift store or yard sale, or pass them down from person to person -- especially with children. Because of this, sometimes the perfect costume does not also have the perfect fit. To create a winning appearance, you may need to tighten, loosen, lengthen, hem or otherwise alter the costume so it fits you, or your child, well.
Preparation
Step 1
Determine if the costume is too large or too small by having your subject try it on. Use straight pins or safety pins to tighten places that are too small. If the costume is too big, determine how much extra space needs to be added and where. Check the hem and sleeve length and determine whether fabric needs to be added or reduced.
Step 2
Cut any patches of fabric you need to make the costume bigger. Use either fabric that matches your costume and blends in, or greatly contrasts to add an extra visual element. Leave at least an additional 3/4 inch around the edge of the patch so you have room to sew the fabric into the costume's seam.
Step 3
Remove all the costume's embellishments carefully before altering the costume. Plan to replace them in the appropriate spots after you've altered the costume. Embellishments can also be useful in hiding any imperfections that occur during resizing.
Resizing the Costume
Step 1
Open the seams along the part of the costume you wish to make bigger by using a seam ripper or scissors. Sew the fabric piece you have cut along one side of the seam and then along the other, according to how much extra space is needed. This technique is called adding gussets. Make the costume smaller by sewing a tightening seam along parts of the costume that are too big. You can use either technique to change the size of the arms, legs, body or skirt.
Step 2
Ensure the costume is now a proper fit by having your subject try it on again. Repeat steps if necessary to fine-tune your work. Use safety pins to tuck or shift additional areas of the costume that could not be altered during sewing.
Step 3
Replace the embellishments on the costume. If necessary, use them to hide any mistakes or odd shifts that occurred during resizing. If you found your costume to be too difficult to alter all together, consider removing the best embellishments and accessories and attaching them to a better fitting base outfit to re-create the look.
Tip
Have the person who will wear the costume available for several fittings.
Be creative in hiding sewing flaws by adding further embellishments to the costume.
Warning
Be careful when using pins during alteration.