Things You'll Need
Pot

Water

Strainer

Dry or canned beans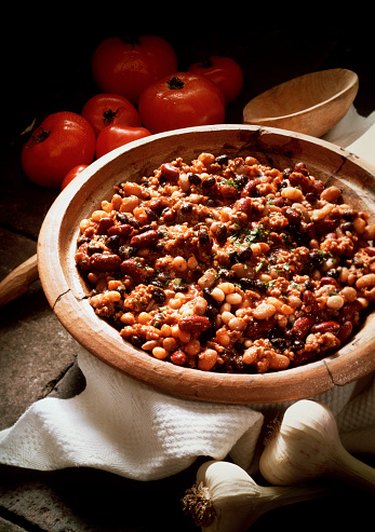 When you want to make a big pot of chili for your family and friends to enjoy, the most important ingredient to have is beans. If you want to use dry beans, not only will these add more nutrition to your chili than canned beans, but they are also typically cheaper. While it can be a little more difficult to soften them up, by no means is it impossible. On the other hand, if you want to use canned beans, they can be softened right along with the rest of the chili.
Softening Dry Beans
Step 1
Add eight cups of water to a pot and bring it to a boil.
Step 2
Add a 16-ounce bag of dried, red kidney beans to the boiling water.
Step 3
Boil the beans for two to three minutes.
Step 4
Remove the pot from the heat, but leave the beans inside the pot for an hour.
Step 5
Use a strainer to strain the beans.
Step 6
Test the beans. If they're still not soft enough, microwave them for five minutes.
Step 7
Add the beans to the chili and simmer for 30 minutes over low heat.
Softening Canned Beans
Step 1
Cook your chili without the beans in it for about 45 minutes. If your chili consists of any items that get soft fast, such as sweet potatoes, you can wait and add them when you add the canned beans.
Step 2
Add the canned beans to the chili and keep the chili covered and simmering for another 20 minutes.
Step 3
Taste the chili. If the beans are not as soft as you'd like them, keep the chili simmering for another 10 minutes. You can extend the cooking time even more if you'd like, but remember that overcooking the chili will begin to make your vegetables mushy.