Things You'll Need
Can of pink salmon

Can opener

Bowl

Cutting board or plate

Tweezers (if you don't want to use your fingers)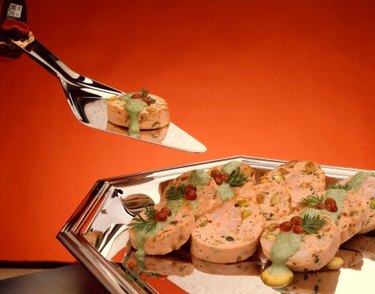 Canned salmon is a nutritious food packed with omega-3s. Pink salmon has slightly lower levels of omega-3s, but it is also less expensive than the darker and stronger flavored red (Sockeye) salmon. Although many people prefer to remove the bones, they are in fact completely cooked, very soft and safe to eat. They are also a terrific source of calcium so, if you are grinding up the salmon to make patties or a salmon loaf, you may want to try leaving them in the patty.
Step 1
Open the can of salmon. Using the lid to hold the salmon in the can, drain the liquid over the sink or over a bowl.
Step 2
Tip the salmon out onto a cutting board or plate. Gently pry apart the center of the fish where the cartilage or spine is located. This will help you to remove it in fewer pieces. Use tweezers or your fingers to gently remove the large and small bones from the fish. You may need to pull apart the salmon to access all the bones. Discard all bones.
Step 3
Remove the skin if you like. This can be safely chopped up and given to a cat.
Step 4
Flake remaining salmon. The salmon is now ready to serve or to use as the basis for a recipe.
Tip
When you are removing the bones, try not to squeeze too hard as this will break them and make them harder to remove. The drained liquid from the can of salmon is a tasty treat for cats, especially when you add the chopped skin.
Warning
Although the bones are soft enough to break up and serve to humans, it is safest not to feed them to pets.