Things You'll Need
Steamer

Tight-fitting lid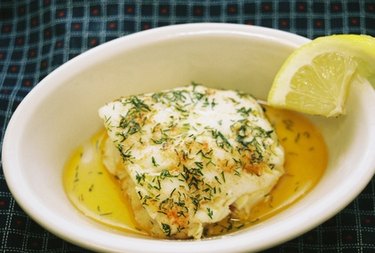 Steaming is a healthy way to cook fish, as it doesn't add any unnecessary fat. Many Asian fish recipes use steaming as a cooking method. You can use a bamboo steamer, a wok with a rack or an electric steamer. Sole, trout and other fish with flesh that is less dense are perfect for steaming. You can use fillets or a whole fish, whichever you prefer.
Step 1
Fill the bottom of your steamer with water. You can use a bamboo steamer, a wok or an electric steamer. If you're using a wok, place a rack in it and fill it until the water is half an inch from the rack. It's important not to overfill your steamer because the fish shouldn't come in contact with the water.
Step 2
Bring the water to a simmer, then place the fish in the steamer. If you're using a whole fish, remember to wash it thoroughly before placing it in the steamer. A whole sole or trout weighing 10 to 12 ounces should be steamed for at least 8 to 10 minutes. Fillets of the same weight should steam for 8 to 10 minutes as well. Generally, steam until the fish flakes or it reaches the opaqueness that you desire.
Step 3
Cover the steamer with a tight-fitting lid. This will prevent the steam from escaping. Allow the steam to dissipate when you remove the lid and before you remove the fish from the steamer.
Tip
You can add herbs to the fish's cavity or lay herbs on top of fillets before you begin steaming. You can also steam fish with lemon slices or rub the fish with a curry paste.