Things You'll Need
Peanut butter balls

Baking tray

Wax paper

1 cup melting chocolate, to cover 24 peanut balls

2 tablespoons vegetable oil

Small ceramic bowl

Dipping fork

Small metal standard teaspoon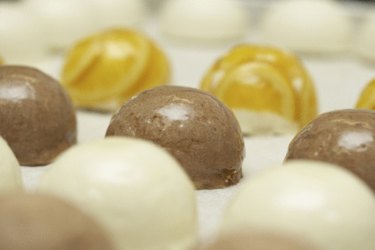 From Buckeye Balls — a traditional treat in Ohio — to truffles, peanut butter dipped in chocolate is a favorite combination for many people. The hard outer shell of the chocolate keeps the soft peanut butter contained. The best chocolate peanut butter balls are made using homogenized peanut butter, rather than the natural kind in which the ground nuts separate from the oil.
Step 1
Line the baking tray with wax paper.
Step 2
Place the peanut butter balls on the tray making sure that the balls are not touching.
Step 3
Place the peanut butter balls in the refrigerator for at least two hours.
Step 4
Pour the chocolate into a small bowl and add the vegetable oil. Microwave on the medium-high setting for 30 seconds. Remove the chocolate and stir it thoroughly. It will not be completely melted yet but must be stirred so that it does not burn. Microwave for another 30 seconds on the same setting.
Step 5
Stir the chocolate continuously until it melts after removing it from the microwave.
Step 6
Remove the baking tray from the fridge and transfer the wax paper containing the balls onto a flat surface beside the chocolate bowl. Place the baking tray on the opposite side of the chocolate bowl and line it again with wax paper.
Step 7
Place one ball on the fork, lower it and then release it into the melted chocolate. Rotate the ball in the chocolate to ensure that it is covered entirely with chocolate.
Step 8
Remove the ball from the chocolate using the dipping fork, and hold the ball over the bowl for several seconds to allow any excess chocolate to drip back in.
Step 9
Place the chocolate covered ball on to the lined baking sheet. Repeat this dipping process with all the balls.
Step 10
Place the baking sheet covered in the chocolate balls into the refrigerator for about half an hour or until the chocolate has fully hardened.
Tip
If you are making Buckeye Balls, do not dip the balls in all the way into the chocolate. Leave a small circle of peanut butter visible at the top.
Dark, milk or even white chocolate can be used to cover the peanut butter balls.
A toothpick can be used to dip the balls if a dipping fork is unavailable, however, it will leave a slight dimple at the top of the ball.
The given amount of chocolate will cover about 24 balls. If making more, then double the amount of vegetable oil and chocolate.
The balls can be stored in an airtight container for two weeks at room temperature.
Warning
Chocolate scalds very easily and becomes unusable, so be careful if melting it for longer than the recommended time in the microwave.