Things You'll Need
Paracord

Measuring tape

Scissors

2 swivel snaps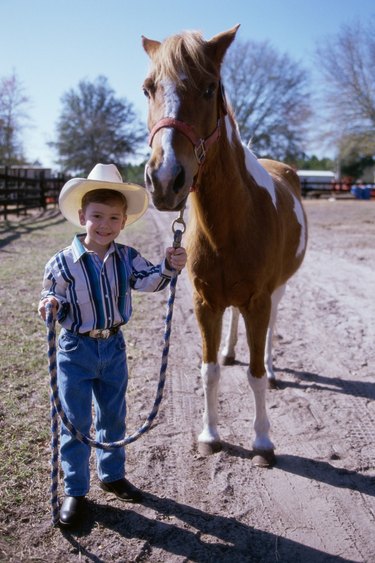 Paracord is a lightweight, quick-drying, water- and mildew-resistant nylon cord that has a breaking strength of 550 pounds. This makes it a useful material for the equine community, since reins made out of paracord can be washed repeatedly and still maintain strength and flexibility. The cord feels pleasant in the rider's hands and is comfortable for the horse as well. Braid your own paracord reins to create a custom-length piece of tack for you and your horse. Once you get the hang of braiding, the project will go quickly and you'll be able to test your new cord out on your next ride.
Step 1
Cut six strands of paracord that are each three times the length of your finished project. Place them on top of one another. Slide the cords through the eye of a swivel snap and pull it to the middle. Tie and double-knot a 6-inch piece of cord around all of the strands at the middle, next to the snap. For example, if your lengths are 18 feet, you would tie the cord at 9 feet.
Step 2
Pick the cords up by the knotted piece. You can tie this onto a chair or hang it from a clip to help you manage the long pieces when you're starting to braid. Part the cords into three pieces on the right and three on the left, grasping them with the corresponding hands. Hold them flat against your fingers with your thumb on top to keep them slightly separated and held down.
Step 3
Take the outside right strand and bring it behind the other right strands and behind the left inside strand. Move it around the left inside strand and return it back to the right hand where it will now be the inside right strand.
Step 4
Move the outside left strand and move it behind the other left strands and behind the middle right strand. Move it around the middle right strand and return it back to the inside left position.
Step 5
Keep repeating these two steps to form the braid.
Step 6
Slip a swivel snap on the end of the cords and tie a double knot around the eye. The knot should be tight, with plenty of tension. Cut the ends of the cords and melt with a match or lighter to prevent them from unraveling. Cut off the 6-inch piece of cord that you tied at the other end. The snap will remain.
Tip
Use two colors of paracord for a decorative set of reins.