Things You'll Need
Carboard

Ruler

Pencil

Scissors

Sheet metal

Marker

Tin snips

Scrap piece of lumber with a straight edge

Drill and bit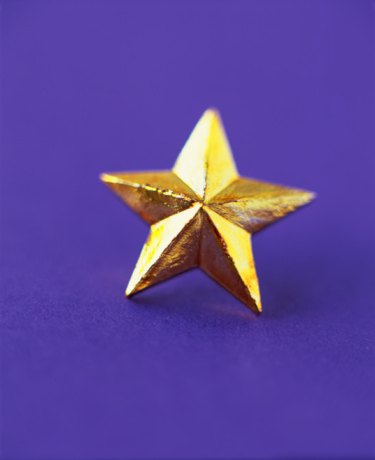 Barn stars were brought to America when religious refugees settled in the Pennsylvania area from Germany. The Amish settlers tended to create simpler stars, while the people who are now known as the Pennsylvania Dutch made colorful and decorated stars. Originally, the stars were painted on the outside of barns, where the colors and decorations had specific meanings. Today, barn stars are generally made of metal, which can be painted or left plain, as desired and used for decoration in the country style.
Step 1
Use the ruler to draw a kite shape onto a piece of cardboard. The two top lines need to be the same length and be shorter than the two bottom lines, which also match each other in length. This kite forms one leg of the star.
Step 2
Trace this pattern onto a piece of sheet metal with a marker. Then turn the pattern, matching the short side of the pattern to one of the short lines just traced. Trace the pattern again. Do this three more times. At the end, you will have drawn a perfect star.
Step 3
Use the tin snips and cut the star shape out of the sheet metal. Make your cuts as smooth as possible.
Step 4
Lay one leg of the star on the piece of scrap lumber. Position it so that the edge of the piece of wood is centered under the leg of the star. Press down on the edge of the star to make a crease in the center of the leg. It does not need to crease to the center of the star unless you want it to. Repeat this procedure for the other legs.
Step 5
Drill a hole in the top leg of the star so that the star can be hung. A 1/4-inch drill bit will work fine for this job.
Tip
Use a grinder to smooth any jagged edges.
You can also make this star out of other metals, such as copper flashing. You can add a patina to copper so it looks aged.
Use paints designed for metal if you want to paint your star.
Warning
Always wear protective gloves when working with sharp metal edges.