Things You'll Need
Black construction paper

Scissors

Blue construction paper

Gold construction paper

Glue stick

Stapler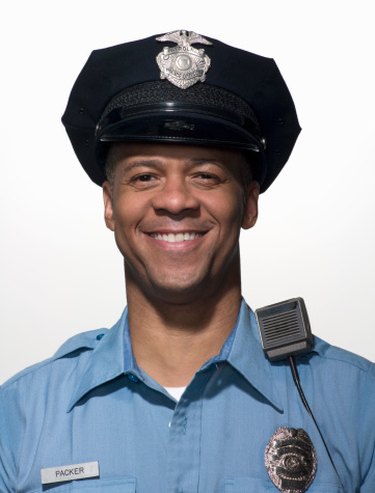 If your child likes to play dress up, hats may be a favorite play thing. With a little cutting and gluing, you can make your child an authentic-looking police officer's hat from construction paper. These hats make a fun classroom project for a police unit or even a craft for a police-themed birthday party.
Step 1
Cut a piece of black construction paper that is 1.5 inches wide and 2 inches longer than the circumference of the child's head. This is the band.
Step 2
Trace a salad plate to make a circle on blue construction paper. Cut out the circle. Measure a third of the way up from one edge and draw a line across the circle. Cut across this line so that the circle now has a flat side. Use a glue stick to secure the circle to the band, centering the flat side of the circle so its edge lines up with the band. There should be equal amounts of band left on either side of the circle.
Step 3
Trace the piece of the blue circle you cut onto black construction paper and cut this partial circle out. This will be the bill of the hat. Glue the bill of the hat so that the flat side overlaps the flat side of the blue circle by 1 inch. Fold the bill forward. You now have a band with a blue circle coming from behind it over the top and a black bill coming from behind the bottom and folded flat.
Step 4
Staple the ends of the band together, forming your child's police man's hat. Decorate the hat with a badge shape cut from gold paper. Glue a piece of gold braiding across the place where the bill and the band meet.