Things You'll Need
2 egg whites, room temperature

3/4 cup sugar

1/2 tsp lemon juice or cream of tartar

2 tbsp cold water (optional)

1 tsp vanilla extract, preferably pure

Heatproof bowl

Pot or saucepan

Whisk or hand mixer

Candy thermometer or instant-read thermometer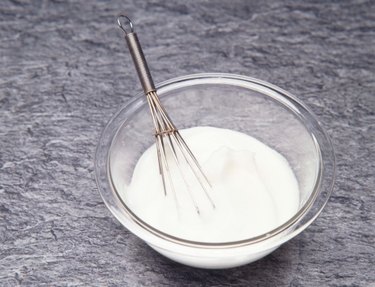 Foam icing is an old-fashioned cake topping. It is essentially a sweet meringue, made by heating egg whites in a double boiler with sugar, and whipping it until light and fluffy. The egg whites are heated to a food safe temperature of 160 degrees Fahrenheit in the process, which takes about seven minutes in a double boiler. This is why many older recipes call it "seven minute icing." Most recipes include lemon juice, cream of tartar or corn syrup to prevent the sugar from crystallizing and to make a lighter foam.
Step 1
Combine the recipe ingredients in a heatproof bowl, with lots of room for expansion. If you are using cream of tartar, whisk that into the water before adding the other ingredients.
Step 2
Place the bowl over a pot of water that is simmering, but not boiling. Whisk the egg whites by hand or with an electric beater for five minutes, by which time it should have formed a light, glossy foam.
Step 3
Test the temperature of the foam with a candy thermometer or instant-read thermometer. It must reach 160 degrees Fahrenheit for the egg whites to become pasteurized, and therefore food safe.
Step 4
Remove the foam from the double boiler once that temperature has been reached, and add the vanilla extract. Continue to whip for another two to three minutes as it cools.
Step 5
Once the foam has cooled, spread it lavishly over the cake, and between its layers if desired. Foam icing is usually applied in swirls and billows, rather than smoothed flat.
Tip
Foam icing is not durable, and is best served on the day it is made. This is especially important in humid climates.
Foam icing is also known as Swiss meringue. Because it is already cooked, it can be spooned onto desserts as a whipped low-fat topping. The meringue can be browned lightly with a creme brulee torch, if desired.
Swiss meringue with gelatin added makes homemade marshmallows. Use artificial vanilla for the "authentic" marshmallow flavor, but pure vanilla when the foam is for topping cakes.
Swiss meringue with softened butter whipped in becomes Swiss buttercream, a light but more durable icing for cakes.
Foam icing made with brown sugar instead of white is often called "seafoam icing."
If you have no lemon juice or cream of tartar, reduce the sugar to 1/2 cup and add 1/4 cup light corn syrup.
Warning
The egg whites must reach 160 degrees Fahrenheit in order to be food safe. If you are unsure of your thermometer's accuracy or do now own one, use pasteurized egg whites.