Things You'll Need
Fabric

Detergent

Ruler

Pencil

Pinking shears

Anti-fray fabric glue (optional)

Paint brush (optional)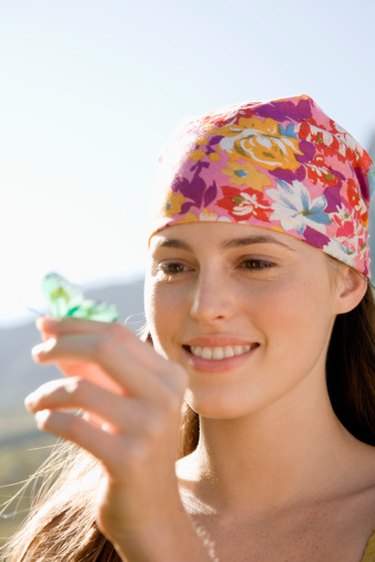 People of all ages wear bandanas as a fashion statement or wear a bandana to keep hair in place protect it from the sun. You can make matching bandanas for cats and dogs. Make decorative bandanas for yourself, your family and pets, or as gifts with fabrics you select. Coordinate them to a casual outfit or select fabric with a favorite theme. Create a variety of bandanas that require no sewing and enjoy the carefree comfort they provide.
Step 1
Determine the size of the bandana you want to make. Most commercial bandanas are 20-inch squares. For children or pet sized bandanas, adapt the measurements.
Step 2
Purchase fabric in the amount needed according to your measurements. Add at least two inches to the length of fabric to allow for proper cutting. Use cotton or cotton and polyester blend fabrics for best results.
Step 3
Wash and dry the fabric before cutting. Cotton fabrics may shrink when washed, so washing before cutting allows for shrinkage.
Step 4
Cut and remove one selvage edge of the fabric with pinking shears. The selvages are the finished edges of the length of fabric that prevent the fabric from fraying. You want to remove the selvage before cutting the square because fabric tends to pucker along the selvage each time it is washed.
Step 5
Use the pinked edge as one edge of the bandana. Measure and mark the remaining three sides of the square to the size desired with a ruler and pencil.
Step 6
Cut the remaining three sides with the pinking shears.
Step 7
Apply a thin line of fabric glue along the cut edges to prevent fraying. Use the applicator tip or a thin craft paintbrush to apply the glue. Allow thorough drying before wearing.
Tip
If purchasing fabric with a checkered or plaid design, use the pattern as a guide when cutting the square.
Pinking shears produce a zig-zag edge that reduces fraying.
An alternative would be to cut the sides with a regular scissor and use iron-on hem tape according to package directions.
Anti-fray fabric glue is available at sewing and craft stores under a variety of brand names.