Things You'll Need
Flowers

Fruits

Vegetables

Sculpture

Candles

Candle holders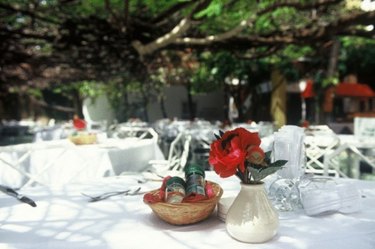 Plastic tablecloths are a convenient and economical alternative to their fabric counterparts. They're inexpensive, easy to clean, and can used for a variety of occasions. Plastic tablecloths are suitable for birthday parties, outdoor events, picnics, and casual family meals. Customize a plastic tablecloth for a more formal affair by adding your own personal touches. Make use of table accents to stylize your tablecloth. Choose a basic plastic tablecloth and dress it up to create an elegant look.
Step 1
Choose a white plastic tablecloth. White is simple, clean, classic and versatile. A white tablecloth looks formal and is an ideal backdrop for your table accessories.
Step 2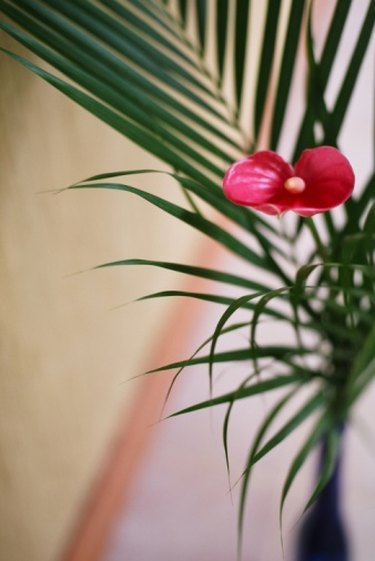 Find a decorative centerpiece. A display of fresh flowers, an eye-catching sculpture, or an arrangement of fruits and vegetables can add an elegant touch to your table. Keep the centerpiece simple for formal events.
Step 3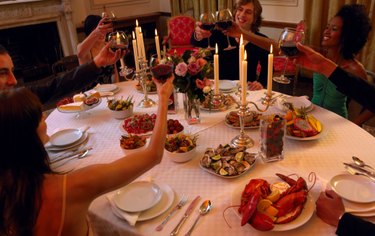 Set candles on the table. Lighted candles set the ambiance and add beauty to the table. Choose simple tea lights in colored holders. Place an individual candle in front of each table setting.
Step 4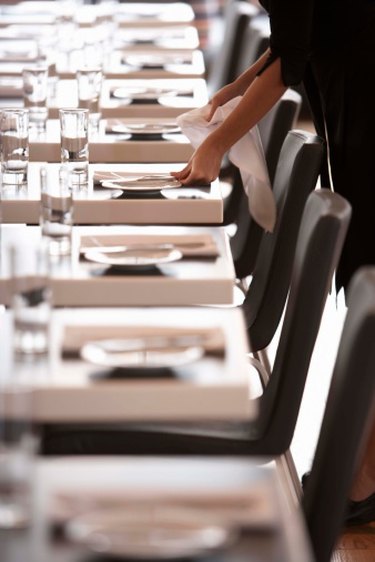 Set the table correctly. Use color-coordinated plates and bowls. Put a service plate underneath the main course plate. Place forks on the left side and spoons and knives on the right. Place glasses above utensils on the right. Set cloth napkins to the left of the silverware.
Tip
Unfold plastic tablecloth the night before using to eliminate creases.
Keep the size of your centerpiece proportional to the size of the table.
Use name cards at each place setting to add a more elegant look.
Place dinner favors on the center of each plate.