Things You'll Need
Bowls

Lump Crab meat

Stove

Spices

Recipe ingredients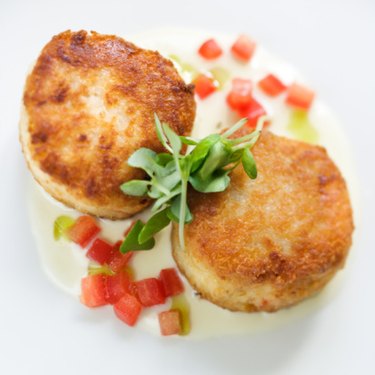 Atlantic blue crabs is known for having the sweetest meat of any crabs in the world. An excellent source of protein with the added bonus of being low in saturated fats, crab meat also contains minerals such as phosphorus, zinc, copper, calcium and iron. Lump crab meat comes packaged as backfin with jumbo lumps, colossal jumbo lumps, or meat from the claws. Once you determine which kind of lump crab meat you want, you can then decide on the most suitable method of cooking.
Cooking Various Lumped Crab Meat
Step 1
Use fresh or canned jumbo and backfin lumps of crab meat to make crab cakes. Pull apart the crab meat with your fingers leaving some large chunks, and place the meat in a bowl. Add 3/4 cup mayonnaise and one whole egg to bind the mixture together. Blend in 2 to 3 tbsp. of panko bread crumbs. Add 1/2 tsp. of seafood seasoning such as Old Bay which contains multiple spices that impart flavor to your crab cakes. Sprinkle a dash of salt and pepper depending on your taste. Mix it evenly together, form into crab cakes and cook in a hot frying pan on top of the stove for three to five minutes until nicely browned. Serve with a green salad.
Step 2
Use the colossal and jumbo lump crab meat to make a crab salad. Do not break up the crab meat since the large chunks make a better presentation in your salad, and the sweet bouquet of the crab meat can be better appreciated if left whole. Combine 1 pound jumbo lump crab meat, 1/4 cup each of diced red onions and red pepper, and l tsp. of both basil and parsley chopped finely in a medium bowl. Mix 2 ounces of mayonnaise, l ounce of mustard and 1/2 tbsp. of freshly squeezed lemon juice in a smaller bowl. Fold the mayo mixture gently into the crab mixture using your fingers or two forks. Add a dash of cayenne pepper, salt and black mixture to taste. Enjoy with a citrus herb dressing.
Step 3
Create appetizers using the brownish lump crab meat taken from the claws of the crab. Use 1 pound of fresh or canned lump crab meat. Discard any pieces of shells found in the can. Saute a small minced shallot in 1 tbsp. of cooking oil in a medium hot frying pan. Cook until the shallot is translucent. Add 1/2 ounce of white wine to the pan and continue cooking for another 15 to 20 seconds. Spoon in 2 tbsp. of Dijon mustard and a pinch of salt and bring the mixture to a boil. Remove pan from heat and add 2 tbsp. of butter. Pour mixture into small heat-proof bowls and use as a dipping sauce for the claws of your lump crab meat.