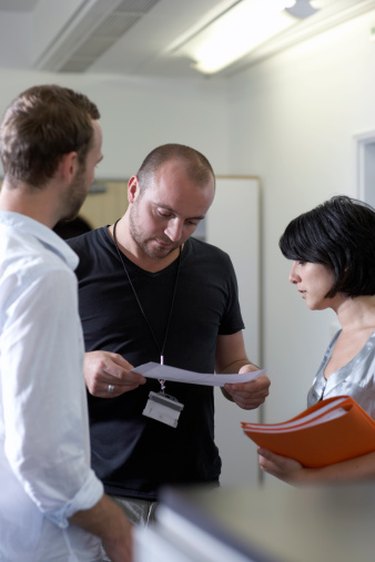 Whether you are putting together company ID cards or adding finishing touches to a school project, punching holes into plastic sheets is done with a hole punch or hole press. Hole punches push various shapes through plastic sheets, such as circles, slots and squares. Hole punches are purchased online, and at school and office supply stores. Most hole punches are able to go through thin sheets of plastic.
Step 1
Position the hole punch or hole press so the die rests above the area of plastic that you want to punch. The die is piece of metal that protrudes from the punch and is usually shaped as a circle, slot or square.
Step 2
Close the hole punch with your hands. Handheld punches close by squeezing the handles with your hands. Desktop punches close by pushing down on the lever with your hands. Put enough pressure on the hole punch so that it punches through the plastic. Listen for the punch.
Step 4
Remove the hole punch from the plastic. If needed, clear away any plastic scrap that remains.