Things You'll Need
Salt

Plastic zipper bag

Food coloring

Cookie sheet or flat tray

Wax paper

Plastic gloves

Decorative jar or lidded container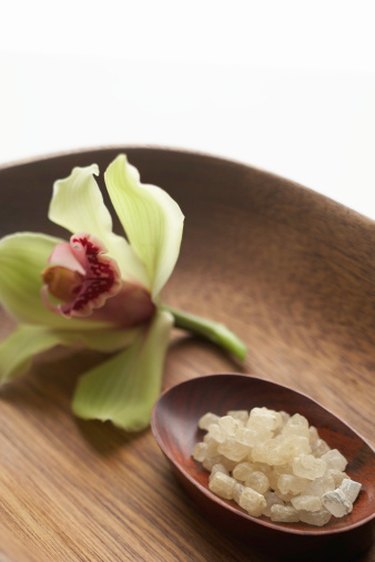 Dyeing salt has instant and colorful results. Epsom salt, sea salt, rock salt and even table salt are mixed with dye to create decorative and useful bath salts. Dyed salts can be mixed with essential oils to create an aromatic product for use in a warm tub of water to soothe aching joints, soften skin and relax the soul. Table salt dyed with food coloring is one way to celebrate holidays at the dinner table. Layer dyed salt in a decorative jar to create a unique craft for home display.
Step 1
Measure the amount of salt that you want to dye. Pour the salt into a plastic bag with a zipper seal. Keep various salt types separate while dyeing to achieve the best results. Salt types can be mixed after the dye has set.
Step 2
Add three to four drops of food coloring on top of the salt in the bag. Close the zipper seal, removing as much air as possible in the process. Shake the bag to spread the drops of dye among the granules of salt.
Step 3
Use your fingers to massage the bag of salt to ensure an even mixture of the dye. Squish larger clumps of salt to break them apart.
Step 4
Open the bag and add three to four additional drops of color to the salt. Repeat the mixing process of shaking and massaging the bag. Continue to add food coloring, three to four drops at a time, until the salt is the desired shade.
Step 5
Cover the surface of a cookie sheet or flat tray with wax paper. Carefully pour the dyed salt onto the surface of the wax paper. Spread the salt evenly over the surface. Set the tray of salt in a well-ventilated room, out of direct sunlight, to dry overnight.
Step 6
Pour the dried salt into a decorative jar or other lidded container. Seal the lid tightly. Store the dyed salt in a dark, dry area.
Tip
Layer different colors of dyed salt in one jar for a unique display.
Warning
If you use your hands to spread the salt, wear plastic gloves to avoid staining your skin.