Things You'll Need
Fish fillet

Water

Egg

Flour

Breadcrumbs

Cooking spray

3 bowls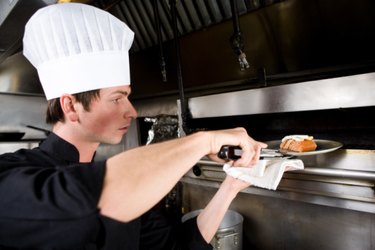 The health benefits of eating fish are widely known; fish provides a great source of omega-3 fatty acids, vitamins and minerals. There are many ways of preparing fish dishes so you can get in your two recommended servings per week without wanting for variety. Coating fish in breadcrumbs is often the first step in recipes that involve frying and baking fish. While there are many theories about the best way to get breadcrumbs to stick to fish, there are certain steps you can take that will ensure a successful cooking experience.
Step 1
Use fresh fish for best results. If you are using frozen fish, defrost before cooking. Wash the fish fillets and pat them dry with a paper towel. Set them aside while you prepare the other ingredients.
Step 2
Take out three bowls. Put flour in the first bowl. Put egg wash in the next bowl. To make egg wash, beat two eggs into a small amount of water. Put breadcrumbs in the last bowl. If breadcrumbs are unseasoned, add spices and/or grated Parmesan cheese and mix together.
Step 3
Coat one fish fillet in flour, then egg wash and finally breadcrumbs. The combination of flour and egg wash act like a glue to hold the breadcrumbs in place. Repeat these steps for all of the fish fillets. Set the fish aside on a cookie rack for 10 to 15 minutes to let the breadcrumbs set.
Step 4
Grease the pan with butter or cooking spray if you are baking the fish. This will help the breadcrumbs to stay on when you remove the fish after baking.
Tip
Place several small pats of butter on top of your breaded fish fillets before baking to achieve a golden brown outside.
Warning
Be sure to remove all bones from fish before beginning. Keep a close eye on fish while it is cooking since it cooks faster than meat.