Things You'll Need
Paper, 1 sheet, 8.5 inches by 11 inches

Pencil

Ruler, standard (English)

Scissors

Glue stick

Cardboard

Pen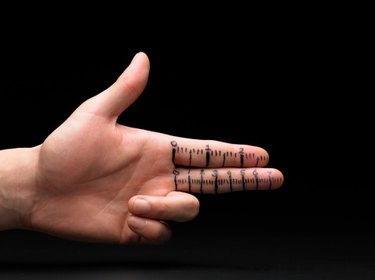 If your children haven't yet learned to read a ruler, lead them in a craft in which they will make their own rulers and then use them to measure ordinary objects from around your house. You can make this ruler with simple craft materials you already have. With a little patience and some attention to detail, you can produce a fairly accurate ruler that will help you get the measurements you need and help your children practice adding fractions.
Step 1
Place the sheet of paper on your work space. Make sure that it is positioned vertically.
Step 2
Place your standard English ruler in the middle of the paper. Use a pencil to trace all sides of the ruler. This is your ruler template.
Step 3
Cut out the template using a pair of scissors.
Step 4
Swipe the back of the ruler template with a glue stick and press it onto a strip of cardboard. You can use any cardboard — such as a cereal box — from around your house.
Step 5
Trim off the excess cardboard around your ruler template.
Step 6
Place the Standard English ruler in front of your paper ruler. Use it as a guide to make the inch and 1/8-inch markings with a pen on the ruler. Add the numerical label for each inch.