Things You'll Need
1 yard minky material

1 yard cotton print material

Iron

Pins

Yardstick or straight edge

Scissors

Thread

Sewing machine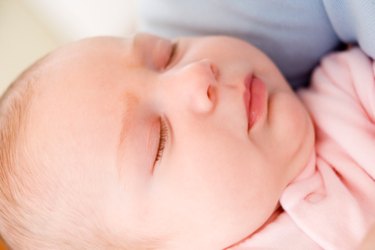 Baby blankets wrap a baby in warmth and help him feel secure. Use minky fabric to create a luxurious baby blanket to be wrapped around soft newborn skin. Minky fabric has a right side and a wrong side, which means minky baby blankets must be sewn out of two pieces of material. Minky baby blankets can be created for your own little one, given as gifts, or donated to hospitals.
Prepare the Material
Step 1
Wash and dry the material to preshrink it. Use a gentle detergent.
Step 2
Iron the material smooth.
Step 3
Place the material with right sides together flat on the floor. Pin the two pieces together. Use the yardstick or straight edge as a guide, and trim the material edges straight.
Sew the blanket
Step 1
Keep right sides pinned together, and use a sewing machine to sew a straight stitch along three sides of the blanket. Leave a 1/4 inch seam allowance. Remove pins as they are encountered, before passing through the stitching needle.
Step 2
Turn the blanket right side out.
Step 3
Turn the raw edges of the fourth side in toward each other, and straight stitch the fourth side with a 1/4 inch seam allowance.
Step 4
Straight stitch around the perimeter of the remaining three sides to create a finished look.
Tip
If presenting the blanket as a gift, fold blanket in half lengthwise and roll up. Secure with a wide satin ribbon tied in a bow.