Things You'll Need
3 large eggs

1 lb.confectioner's sugar

Food coloring of your choice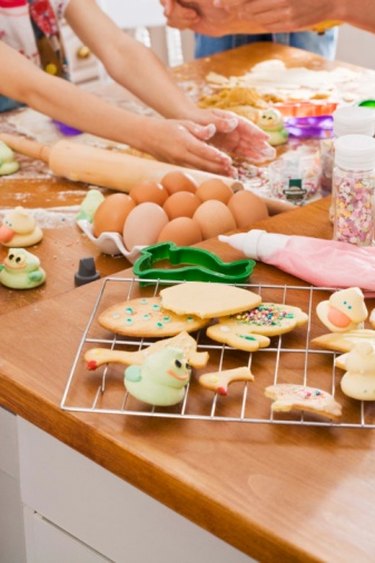 Royal icing can turn any cookie into an edible canvass, easily decorated using food coloring as paint. Painting on cookies is a wonderful way to personalize dessert for special events, like a birthday or wedding shower. It's also just a great way to have fun. Royal icing is a simple mixture of eggs and confectioner's sugar that, when hardened, creates a smooth and glossy coating on your cookie, perfect to begin painting on.
Step 1
Separate out the egg yolks from the whites of your eggs. An easy way is the crack the egg shell and then pour the yolk and whites back and forth, between the two shell halves. The denser yolk will fall, but the egg whites will stay behind. Pour the separated egg whites into a mixing bowl and discard the yolks.
Step 2
Beat your egg whites while mixing in a pound of confectioner's sugar. One pound of sugar is typically one box, but check the label for exact measurements. Continue to beat the eggs and sugar until the mixture is thick and stiff. You want to make sure there are no yolks in the icing.
Step 3
Spread your thickened mixture over your cookie. You can use a simple butter knife to spread the icing. Another popular method is to pour the icing into a plastic zipper bag and cut the corner of the bag off, creating a piping tool. Squeeze the bag and let the icing slowly come out onto your cookie. This gives you greater control of your icing, but you will still need to smooth it out with a knife.
Step 4
Pick the color food coloring you want to use and mix your paint. Cookie paint is equal parts food coloring and water. So, for every drop of food coloring you also want to add one drop of water. Some people like to use actual painter's trays for their cookie paint, but a basic paper plate will work just as well. Use a paint brush to swirl the food coloring and water, mixing it into a paint.
Step 5
Paint your cookie the same way you would paint a canvass. Make sure the royal icing is hardened and smooth before you paint. Using different sized paint brushes will allow you to get varying degrees of detail into your design. Edible markers are also available, allowing you to first draw your design and then use food coloring paint to paint within the lines.