Things You'll Need
1 lb. lean beef

1/2 tsp. sea salt

1/2 tsp. pepper powder

2 tbsp. olive oil

1/4 cup chopped onions

1 pound sliced mushrooms

1/4 tsp. nutmeg powder

1/2 tsp. dried basil powder

1 cup low-fat yogurt

3 tsp. cornstarch

1/4 cup warm water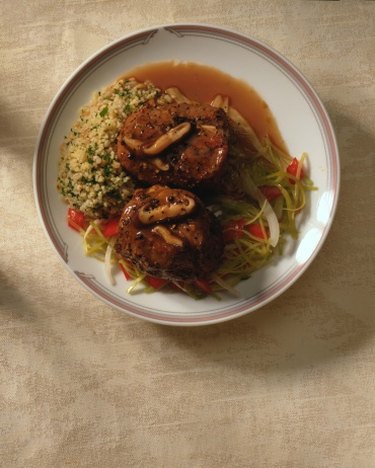 Beef stroganoff is a classic Russian culinary delight named after Count Pavel Stroganov, who popularized this hearty meal. Flavored slivers of beef are cooked in a thick sauce and served over a bed of egg noodles or rice. Beef stroganoff is quite easy to prepare - you can also combine your favorite seasonings such as Worcestershire sauce or white wine and make this meal even more enjoyable. Or, if you just want to thicken the sauce, use cornstarch instead of flour to thicken the beef stroganoff and create a creamy and appetizing sauce.
Step 1
Slice 1 pound of lean beef into 2-inch thin strips. Place the sliced beef in a bowl and rub all over with 1/2 tsp. each of salt and pepper powder. Set to marinate in the refrigerator for two hours.
Step 2
Heat 1 tbsp. of olive oil in a saucepan on medium heat. Sauté the marinated beef slices for five minutes. Turn the slices over to evenly brown on both sides. Remove the cooked beef from the saucepan and set aside in a bowl.
Step 3
Pour 1 tbsp. of olive oil in the same saucepan. Add 1/4 cup of finely chopped onions and sauté until soft. Mix 1 pound of sliced mushrooms, sprinkle 1/4 tsp. nutmeg powder and 1/2 tsp. dried basil powder. Cook for another five minutes.
Step 4
Return the cooked beef slices to the pan and mix well with the other ingredients. Pour 1 cup of plain low-fat yogurt or sour cream, gently stir and cook for three minutes.
Step 5
In a separate bowl, mix 3 tsp. of cornstarch with 1/4 cup of warm water to prepare a semi-solid paste. Stir the cornstarch well to completely dissolve and prevent it from clumping when mixed with the sauce.
Step 6
Add the cornstarch paste to the pan, stirring slowly so that it blends completely with the gravy. Simmer for three minutes, remove from heat and serve hot.
Tip
You can also thicken the beef stroganoff by proportionately increasing the quantity of the yogurt.