Things You'll Need
Measuring cups

3 packages Jell-O grape gelatin, 6-ounce size

1 package Jell-O Orange gelatin, 6-ounce size

Bowl

Spoon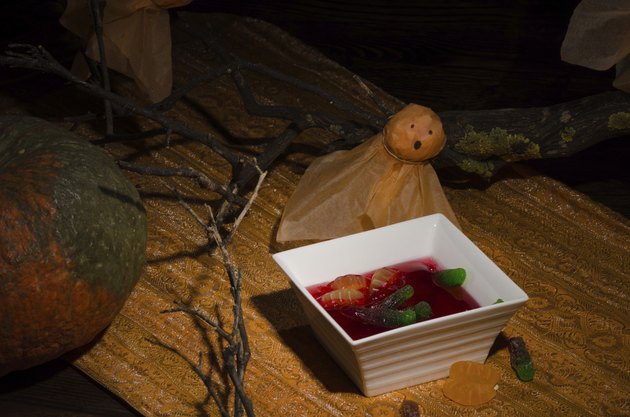 Spooky desserts help make your party screaming good fun. Black is closely associated with Halloween, but Jell-O doesn't come in black. To get black, you need to mix two different flavors of gelatin together. Use the black Jell-O as the basis for a creepy "soup" or cut out jigglers using cookie cutters. The whole process won't take much longer than making regular Jell-O, leaving you with plenty of time to go trick-or-treating.
Step 1
Boil 8 cups of water and pour it into a bowl.
Step 2
Add 3 packages of grape flavor and 1 package of orange flavor Jell-O into the bowl.
Step 3
Stir the mixture until the crystals have dissolved.
Step 4
Add 8 cups of ice-cold water to the bowl.
Step 5
Put the bowl into the refrigerator and let it set for 4 hours or until it is firm.
Tip
To make jigglers, use 10 cups of boiling water for the four packages of Jell-O and do not add cold water. Pour the mixture into a shallow pan and refrigerate until it's set.