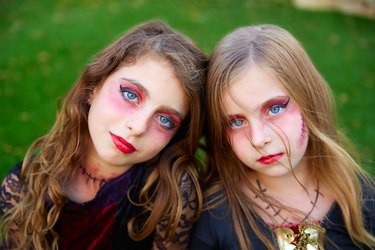 Nothing says Halloween like a great vampire costume as long as you get the vampire makeup right. To look good, it should be applied carefully with a steady hand and not be overdone. There are plenty of vampire makeup ideas out there and vampire makeup tutorials as well. What you choose to do depends on the person who will be dressing up. After all, an adult may want a completely different look than a child.
For an easy vampire makeup tutorial for kids that can be used on boys and girls alike, you will need makeup sponges, white foundation makeup and powder, a makeup brush, eye shadow, dark eyeliner, fake blood and, of course, vampire fangs. Have the child sit down on a stool so you won't have to bend down a lot while you work and make sure that he is not wearing his costume. White makeup can leave stains on a black cape.
Use the sponge to cover the entire face with the foundation and dust on the powder with the brush. You do not want the face to look shiny. Take another sponge and put gray eye shadow on it. Use this under the eyes, around the nose, under the chin and in the hollows of the cheeks. Blend in some brown, pink and red to make the skin look sunken in and sickly.
Next, use the eyeliner and more eye shadow to draw on thick, highly arched eyebrows. You can set them with a little bit of hair gel applied to a spoolie brush. Now, it is time for the blood. Dip a Q-tip into the fake blood and paint drips on both sides of the mouth. This can go down the chin and all the way onto the neck if you'd like.
Other Vampire Makeup Looks
There are many vampire makeup ideas that work well on teens and adults. To start, use the same kind of foundation as you would for a child to create a white base. Then, use heavy black eyeliner all around the eyes. Make red shadows all the way around the eyes with eye shadow and wear a pair of icy-blue contact lenses.
For a different take on this, you can use dark black lipstick, black nail polish and lots of extra blood on the face, neck, chest and hands. If you want your vampire to be cute and magical, try using dark blue eye shadow, blue and green lipstick and fake eyelashes. Fake blood is optional.
Male Vampire Makeup Tutorial
Male would-be vampires might prefer a slightly different aesthetic. They can start out with a sponge application of bone-white face foundation like what you'd use for kids' vampire makeup, blended all over the face and neck.
Find the hollows of the face, which include the eye sockets, temples and underneath the cheekbones. Use a thin paintbrush to draw lines there with dark gray face paint and cover the eyelids and under the eyes with the same color.
Blend in all of this with a makeup sponge to create a shadow effect. Add fake blood and fangs for an overall spooky effect that is sure to chill everyone who sees it.