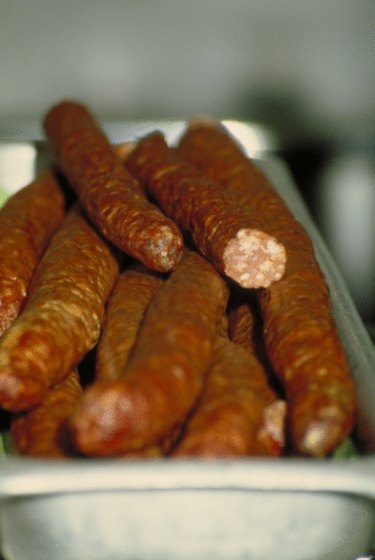 Kielbasa is a traditional polish sausage made with coarsely ground lean pork and beef, along with many spices, such as marjoram and garlic. Unlike many cooked sausages, smoked Kielbasa will still need to be cooked before it can be safely eaten. The main purpose of smoking, in regards to polish sausage, is to give the sausage a distinct appearance and a unique, smoky taste. The sausage you smoke can either be bought from a store, or made at home with raw ingredients according to your recipe of choice.
Step 1
Hang cured kielbasa and let dry for an hour. Do not allow the sausage links to touch each other.
Step 2
Smoke the dried kielbasa in a smokehouse for 1 hour at 120 degrees F.
Step 3
Increase the temperature to 150 degrees F, and continue to smoke for another hour.
Step 4
Increase the temperature to 170 degrees F and cook for two more hours or until the internal temperature of the sausage reaches 141 degrees F.
Step 5
Remove the kielbasa from the smokehouse. Spray with warm water for about 30 seconds.
Step 6
Move the kielbasa to a tub filled with ice water and let sit for about 25 minutes. Alternatively, you can spray it with cold water until the internal temperature reaches 100 degrees F.
Step 7
Let the kielbasa dry for one to two hours, and store in a refrigerator.
Tip
Hickory wood is recommended for smoking kielbasa.