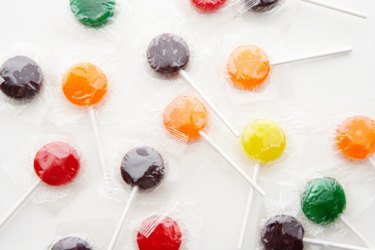 Making lollipops and other hard candies is something you can do in your own kitchen as novel option for desserts or snacks. They store well, make great gifts, and, of course, they taste great. Some entrepreneurs have even turned homemade candy making into viable small businesses. Whether you're making lollipops for business or fun, unless your candies will be eaten as soon as they're made, you'll need to know how to wrap your products. Wrapping lollipops is similar to wrapping any other hard candy.
Step 1
Check with a candy-supply outlets. The main idea is to use a wrapping substance that will protect the lollipop from debris but that will not stick to the candy. Lollipops are generally in the hard-candy category, so foils, cellophanes and waxed papers work best. For lollipops, you can obtain these materials either in sheets or in individual lollipop bags.
Step 2
Secure the wrap around the lollipop by tying the bottom edge of the wrap to the stick. You can use string, twist-ties, ribbon, raffia or any other type of tie. Some lollipop bags come with their own drawstrings built in, which makes them the quickest and easiest to secure.
Step 3
Be creative. Use different colored wrappers, and mix and match ties to make a decorative motif for your lollipops. You can even find themed wrappers at candy-supply stores to match your lollipops to specific occasions or holidays.